I was invited to do an artist talk at Photography School Gothenburg (Fotoskolan Göteborg) yesterday and together we wrote down answers to five questions. When working and living as a photographer sometimes it can be difficult to try to stay true to your own visions and keep your creative pride, thinking that you need to create something else because you feel pressured to. I strongly believe that if you are not true to your own creative vision and pride, you will soon start to resent the work that you used to absolutely love. And also, I'm a firm believer that as long as YOU love what you create, there will be lots of others out there that do as well.
To remind ourselves what we actually love about photography, and also to keep pushing ourselves to do even better, be even better, we ask ourselves these questions. Questions that we can go back to and rethink over the years, in constant evolution, to move forward, but still remind ourselves of where our true love for photography once started and what our core values are for the images we create.
WHAT MADE YOU FALL IN LOVE WITH PHOTOGRAPHY? | Remind yourself of that magic moment, or those magic images, that ones pushed you to start shooting.
THINK OF 3 THINGS THAT YOU LOVE IN AN IMAGE | Try to as often as possible incorporate those 3 things in your own images, to keep your voice and to create consistancy in your work. May it be a color, a subject, a location, an emotion, a genre…
IF YOU HAD NO LIMITATIONS, WHAT WOULD YOU PHOTOGRAPH? | If money or relying on others were no issue, what would you create? Is there anything you can do, right now, that can make you go out and shoot something similar, or even more awesome?
WHAT WOULD YOU LIKE TO BE BETTER AT/STRENGHTEN YOUR PORTFOLIO WITH? | As photographers we need to constantly evolve and push ourselves. Right now, what can you do to evolve?
AS A PHOTOGRAPHER, WHAT DO YOU WANT TO SPEND YOUR DAYS DOING? | Working as a photographer, we do not only pick up our cameras and photograph all day long. We need a focus as a business and spend our days creating more than photographs. For you, do you want to be hired by a company, sell prints, do exhibitions, do assignments, write a book, work for a magazine, teach…?
MY TIP FOR FURTHER READING!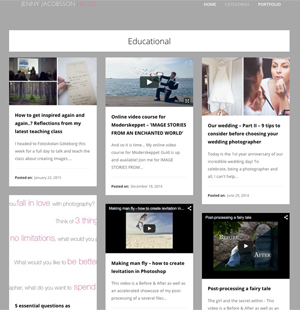 Conceptual imaginative portraiture truly makes my heart beat. If it does the same for you, and you want to learn more about creating it, visit my blog category Educational to find out more.
IF YOU ARE INTERESTED IN HIRING ME AS A SPEAKER, FEEL FREE TO SEND ME A MESSAGE!…
—
INTRIGUED?
Connect with me on Facebook for even more insight!
SHARE THIS AND SPREAD THE LOVE