Do you remember the incredibly popular movie (and book) "Fried Green Tomatoes (at the Whistle Stop Cafe)"? I certainly do since it was one of my favorite movies growing up and the incredible story about friendship and strong women has always had a special place in my heart.
The american author Fannie Flagg recently released a new book called "The All-Girl Filling Station's Last Reunion" and when the Italian publishing house Rizzoli Publications asked me if I wanted my image to be the book cover for the Italian version, I jumped up and down out of excitement!
The cover image is one of the portraits from my series 'Parallels'. A big part of my work process is the inspiration that I draw from a particular location. Passing by this old gas station made my heart jump and thump and this little story evolved in my mind. I just had to make this shot! Bringing a 50's inspired dress of mine I went back there with Andreas as assistant and after half an hour of shooting, and lots of cars passing by real close (as always I wonder what they thought…), this retro fashion inspired shot was done.
This image is proof that if you get that special feeling in your gut for a place, don't hesitate to go at it. I'm happy to say that this image is one of the most appreciated as an art print from me. If you are interested or curious about getting this image or any other, check out my Prints section on my website and don't hesitate to contact me.
Want to read the book? Go here if you want to buy it on Amazon.com in Italian, or if you want it in English (not my cover).
MY TIP FOR FURTHER READING!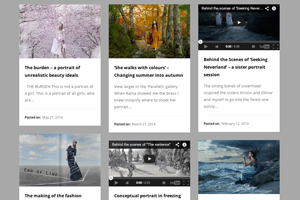 Conceptual imaginative portraiture truly makes my heart beat. If it does the same for you, visit my blog category Works to find out more.
And come with me Behind the Scenes…


—
INTRIGUED?
Connect with me on Facebook for even more insight!
SHARE THIS AND SPREAD THE LOVE