THE BURDEN
This is not a portrait of a girl.
This is a portrait of all girls, who are suffering under warped expectations.
A portrait of the burden of unrealistic ideals.
the BACKGROUND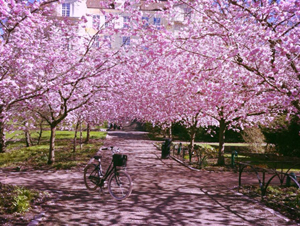 I've kept this place in the back of my mind for two years. At my first encounter I was blown away by it's beauty and knew I had to make a portrait here one day. But I wasn't prepared. And as we all know, the cherry blossom don't last for too long. And when it's gone, of course another year has to pass on by…
April came again. On my way from a meeting I took a detour to this park with my bicycle to check it out once more, and I got the exact same feeling again. Still I had no specific story in mind, but I felt a sudden urge to just go ahead and do something spontaneous. I started to ask around on my Facebook page for someone to model for me on short notice and Amanda, who is now attending the same photography school I did, volunteered. The timeframe was short, but with the wise words "GO JUST GO" as a tagline we jumped right at it.
the STORY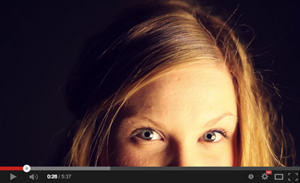 It so happened that Amanda only a few days earlier had posted a self made short film on YouTube that truly struck a cord with me. It's called "För mycket hud i pannan" (in English "Too much skin in the forehead") and is a very personal, very strong, message from Amanda about the effect the distorted beauty ideals can have on young women of today. But also about choice, willpower, and to be totally fed up with it. An issue that I, as so many others, have a personal relation to and feel very strongly about.
Sketching on the story for the image I couldn't help but get inspired by Amanda's story. It trickled down into my own tale, starting to crystallize a story about the price for the strive of beauty. In Japan, cherry blossoms are a true metaphor for the ephemeral nature of life. They bloom out with such extreme beauty, and then they die within a few days, the petals floating like snowflakes to the ground. With this phenomenon and symbolism as a base the idea of a girl, or rather an entity, heavily weighed down by her task, started to form.
To me, this image is a comment about beauty ideals, the pressure from the world around us, and the toll it's taking to keep up appearances. But also, in this image lies a bit of hope, that the burden of unrealistic ideals one day will be lifted by our collective choice and willpower. Maybe even defeated.
the PREPARATIONS
We decided to shoot the image just three days after me first bringing it up, not to risk the flowers to disappear. On the question of how early in the morning Amanda could imagine to come to the location her answer was "Everything for the arts – as early as needed". Oh how I just love that attitude!
T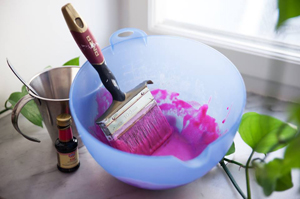 he day before the shoot I  set the alarm to 05.30, grabbed my bike and went to check how the light looked at this hour.The light was how I wanted it to, but it was absolutely freezing cold and I was a bit worried that Amanda would be really uncomfortable with sitting still in a thin dress in that cold morning air. But again, Amanda just laughed at me worrying. And her enthusiasm couldn't make more excited.
I also spent the day asking around for an old painter's ladder, and happily, getting hold of one by the kindness of my former teacher Kalle. I also looked up a recipe for home made, environmental friendly… and hopefully more skin friendly… paint and went at it. It actually turned out better than expected! Creating my own paint bucket out of a strawberry jam container, going back and forth across town to get hold of the ladder, ironing the dress, packing some warm socks and a blanket… and we were good to go.
the (quite cold) SESSION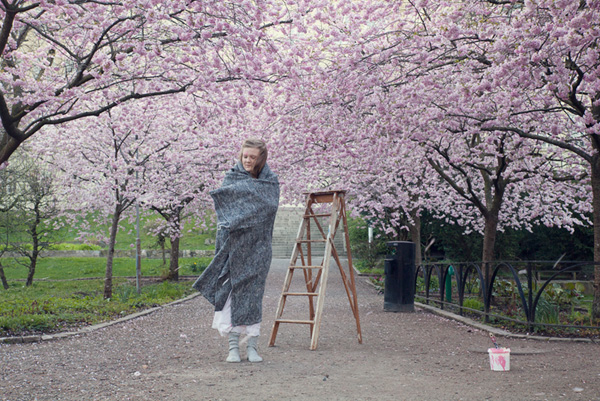 The shoot itself went very smoothly. Amanda was such a trooper in that dress, even with me splashing cold wet paint all over her and treating her like a baby, pulling ragg socks on and off of her bare feet to try to keep her warm between set ups.
It all took about 30 minutes from rigging the equipment until it was packed again, and then Amanda surely was well deserved to change into something more comfortable. Even though her skin to some extent was still covered in that, now dried up, pink paint… But she was still smiling :)
good work deserves a GREAT BREAKFAST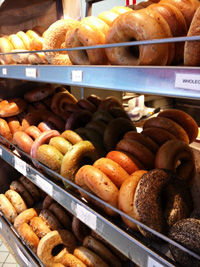 After the portrait was shot we went to the fantastic nearby, american diner inspired, Egg & Milk for breakfast and we spent a couple of absolutely great hours of chatting about hopes and dreams, upcoming shoots, and most things in life.
It's so fascinating when you connect so strongly with someone you just met, forgetting about time, and just keep on talking about and sharing passions. It was such a lovely morning and I truly hope we get to do that again some day Amanda!
And I hope the good people of Egg & Milk forgave the strange pink stains we possibly left in the restroom…
Amanda Falkman is also a very gifted photographer with an interesting career on her way. Check out her work here and for Pete's sake… GIVE AMANDA SOME LOVE for her participation in this portrait!
MY TIP FOR FURTHER READING!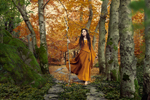 Is fantastical imaginative portraits in nature your cup of tea? Or perhaps just a fantasy theme?
Come visit She walks with colours…
SHARE THIS AND SPREAD THE LOVE