South of Göteborg (Gothenburg) is a nature reserve we drive by each time we go visit my parents-in-law. It's right there next to the highway, stretching out in all its glory, a heathland making my mind go absolutely wild. I've been thinking about shooting there since 2009 when I started to pass it by when I met Andreas. This summer it was time… This is the story behind the portrait at Sandsjöbacka.
I remember sketching the idea out in the middle of a sleepless night. I snuck out of bed at about 2 or 3 am while Andreas was sleeping, snatching a notepad out of the dark on my way into the bathroom. Sitting there with bare legs on the cold tiles I wrote pages about a constant search through life, questions about truths not always visible, and actions taken.
The story of 'Hide and seek' is heavily based on the transition I have done in life. Being part of my series 'Parallels', it carries the research I so often revisit in my work.
The idea is also heavily influenced by something I remember my grandmother say when I was a child…
If you bring heather inside the house,
you bring death in with it.
That old superstition was the foundation of this exact location and for me, a big part of this story.
'HIDE AND SEEK' IN FULL SIZE HERE
Behind the Scenes of the shoot
To get to the location we had to park a couple of kilometers away and hike on one of the trails. Fortunately I'm blessed with the kindest most patient husband, and assistant, ever. So we took the photo gear we needed on our backs together with the shovel, and off we went. On the way there we passed through some truly lovely forests that I just have to go back and shoot in at another time. Maybe for a portrait of any of you out there?
This was going to be a self-portrait, wearing one of my old business dresses that I wasn't keen on hiking in. So getting my hair done beforehand, with a messy bun hinting that the woman had been at it for a while, was ok but I changed into my outfit when we had arrived.
When arriving at the heath we spent some time looking for the optimal spot to shoot at, with a great undisturbed view and where a lot of the beautiful heather could be seen. We didn't have to look for that long. Since I had the entire image planned out beforehand, all that was needed was a quick change of clothes, some rigging, and then we got to it.
The shoot went quite smoothly even though we took our time to not stumble around destroying any of the heather.
And luckily it went quite fast, because the mosquitos were ruthless, as can be seen by taking a look at Andreas's legs the day after.
But we both agree, that it surely was worth it.
Love,
Jenny
SEE THE IMAGE 'HIDE AND SEEK' IN FULL SIZE HERE!
MY TIP FOR FURTHER READING!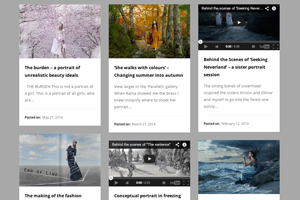 Curious about more of my conceptual images and the stories behind them? Hop on over to the blog category Works to find out more.
And visit more Behind the Scenes…
—
INTRIGUED BY IMAGINATIVE PHOTOGRAPHY?
Connect with Jenny on Facebook for even more insight!
SHARE THIS AND SPREAD THE LOVE