As a photographer, or any image maker, you can choose to sit around waiting for inspiration to pop up by itself. Personally, I'm a firm believer that feeling inspired is a state of mind you can teach yourself to find when you need it. So, what can we do to get started? I'm gathering and sharing my methods and favorite creators as a resource to help keeping our inspirational juices flowing. And I invite you along for this series of "INSPIRATION FOR IMAGE CREATORS"!
Photographers tend to look a lot at other photography to get inspired. Although, I've heard so many times from photographers that they feel trapped by comparing their images with the work of others within the same field. Thoughts like "oh, somebody else already did that" or "ah, if I only got to shoot those who Annie Leibovitz shoots" can hold you back rather than inspire. I find that by indulging in art that you simply can't create yourself can help to open up your mind and let go of any negative thoughts.
Personally I've noticed that I more and more  look at other art forms. Here are 3 Digital Illustration Artists who keep on rocking my world and give me a huge influx of a desire to create!
________________
Everyone expects me as a photographer only to have photos on my walls at home, but last year we purchased this beautiful, and wonderfully quirky, art piece of Christian Schloe; "Dreaming of Spring". And it is now inspiring me everyday with its mystique.
Christian Schloe is a digital artist who creates surreal scenes featuring bizarre moments. Realistic elements are blended together to form new possibilities. As a viewer you are transfered from reality into a dreamy, fictional world.
I found that Christian quotes Peter S. Beagle;
Anything can happen in a world that holds such beauty.
Other than that Christian seems to prefer to speak through his images, and not through words. So instead of reading text, dive into his very special worlds, and let his art do all the talking.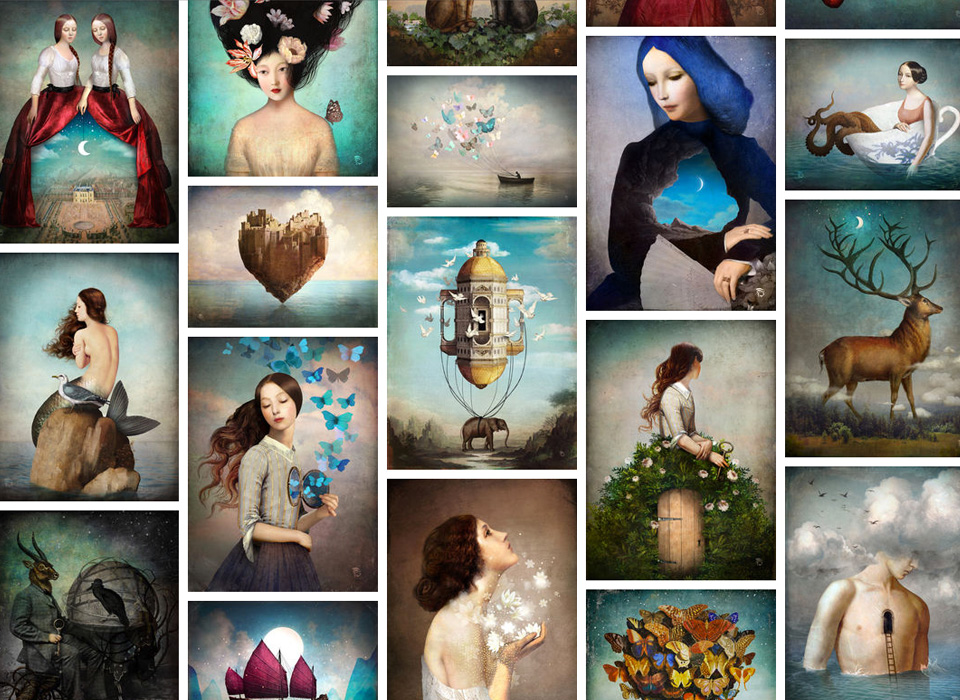 ________________
Maggie is an American artist who works with creating digital images by the use of photographs, scanners, and Photoshop. She has studied photography at Yale and University of Florida, and after more than ten years as a still life photographer, she began to use the computer to create her images in 1996.
Her collaged digital artwork is often created with help of items she finds by frequently searching flea markets, eBay, or nature and she gathers everything that seem to have a story to tell. She also take her own photos with a point-and-shoot camera or use old photos of people. In her studio she makes small pastel drawings as backgrounds and scan each element into the computer separately. In Photoshop she arranges and plays with these layers in much the same way that she earlier worked with objects in her studio as a still life photographer.
In this video you can see a lot of Maggie's work as well as get behind the scenes of how she creates them:
https://vimeo.com/72831294
I am interested in creating a cohesive, visual, believable space that the viewer can visually enter. So, I do not use a lot of transparency or create a space that is too visually complex. Ideally, I want the images to invite the viewer to engage and recollect, almost like entering a stage set or a scene from a dream.
Maggie Taylor
Maggie, through her surrealistic montages, surely transports the viewer into dreamlike worlds. And I love being in them.
You can find more images from and also articles about Maggie Taylor at the Artsy site.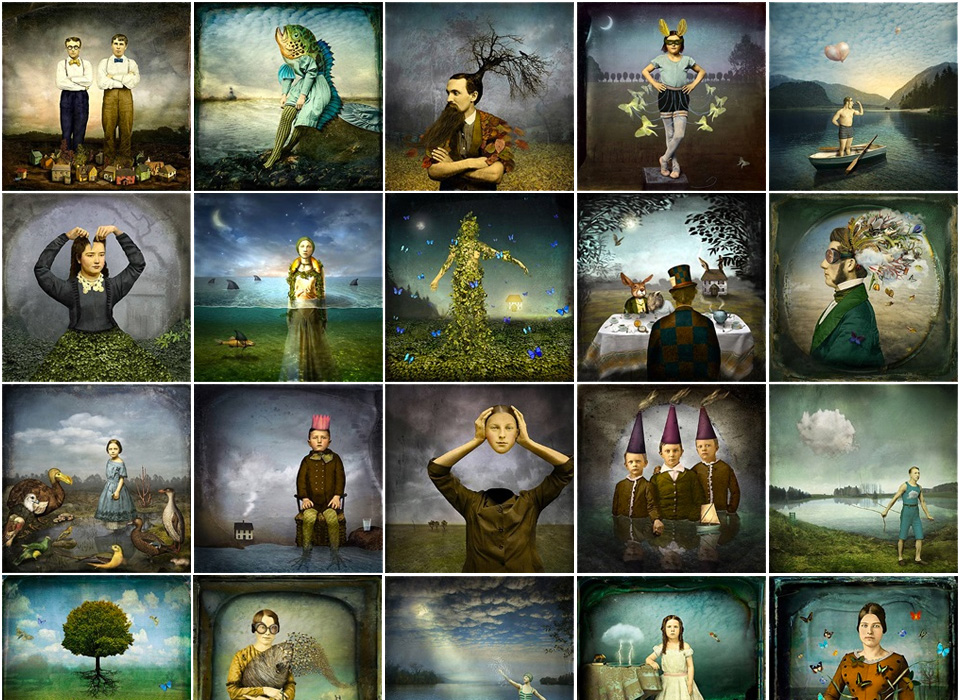 ________________
This German graphic designer lives and works in Malaysia where she creates inspiration tickling surreal digital artwork. Using mixed media Catrin takes vintage photos apart and by experimenting in Photoshop she assembles them again into creating new content and stories.
My images are all digital made. I collect old images and illustrations and put them new together in Photoshop. The working process is based on combining and the division of photographs, with removing, filling and retouch. Using digital medium I have far more creative possibilities and I can work much faster then on the canvas. Perhaps, my skills have been formed during the long years of working in front of my computer. Thanks to all that I can create my art best in digital.
Catrin Welz-Stein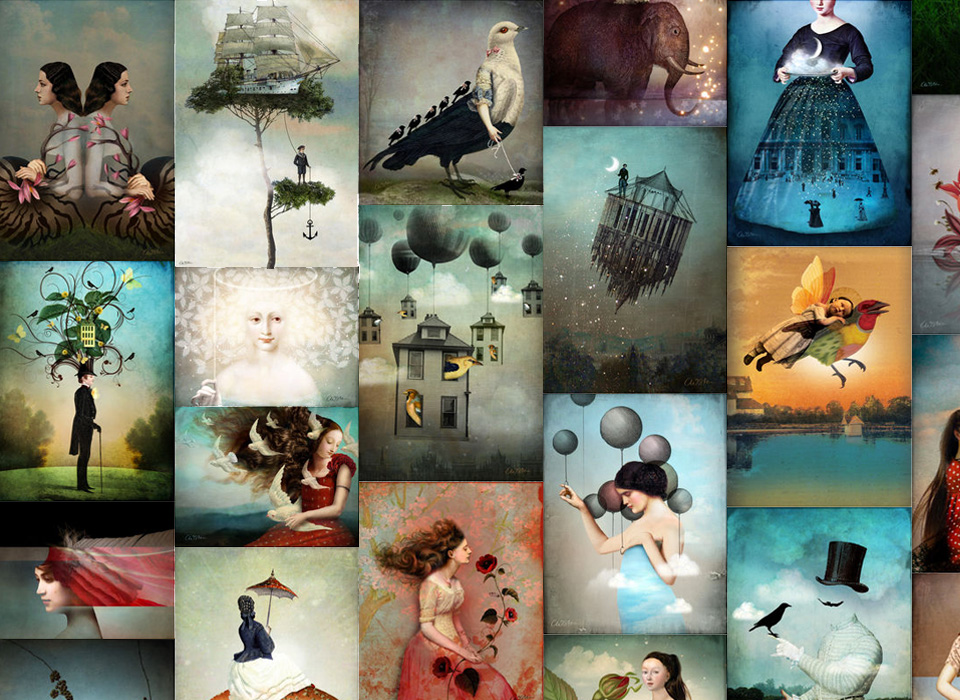 ________________
MY TIP FOR FURTHER READING!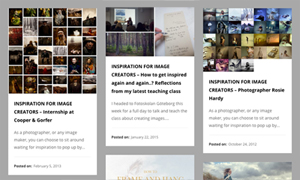 If you like the idea of me gathering and sharing my methods and favorite creators as a resource to help keep your inspirational juices flowing… Keep an eye on my blog category INSPIRATION!
—
DOES YOUR HEART BEAT FOR CONCEPTUAL PHOTOGRAPHY, JUST LIKE MINE?
Connect with me on Facebook for more!
SHARE THIS AND SPREAD THE LOVE