In photographer Jenny Jacobson's head fits lots of amazing stories, both her own but also others. Stories that come to life in photos after careful planning, photo shooting, and creative image processing. Jenny is an image narrator who fascinates and arouses emotions…

What are her thoughts about her creativity?
That's the description for the interview made by Moderskeppet last week. Through the interview I got to think about questions that I believe would be useful for every photographer to contemplate every now and then. Join me and get Behind the Scenes of my parallell worlds! READ THE FULL INTERVIEW HERE (it's in Swedish)!
Questions asked:
WHY DO YOU CREATE?
DO YOU ALWAYS HAVE A CLEAR PLAN FOR YOUR PHOTOS?
WHERE DO YOU IDEAS LIVE?
DO YOU COMPLETE ALL PROJECTS?
DO YOU HAVE TO HAVE INSPIRATION, OR DO YOU JUST GO FOR IT ANYWAY?
WHEN AND WHERE DO YOU CREATE?
TELL US ABOUT AN IMAGE THAT MEANS A LOT TO YOU. AND CAN WE SEE SOME BEHIND THE SCENES FROM CREATING IT?
DO YOU WORK A LOT ON BEING VISIBLE AS A CREATOR?
CAN YOU GIVE US A BOOK RECOMMENDATION?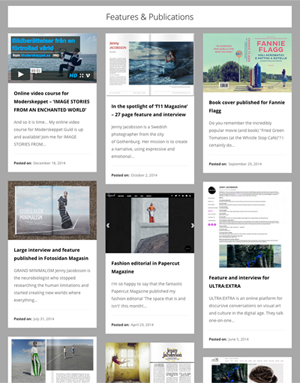 MY TIP FOR FURTHER READING!

Do you want to find out more, maybe in English?
You can find features, interviews, publications, and editorials about JENNY JACOBSSON under the category Features & Publications!
—
WANT TO GET PERSONAL AND ASK SOMETHING YOURSELF?
Connect with me on Facebook!
SHARE THIS AND SPREAD THE LOVE