Today is the 1st year anniversary of our incredible wedding day! To celebrate I want to share with you, in this first part the wonderful images that we were blessed with from Rania and Nadim, to hold the memories vidid and bright. And in the second part, I can't help myself being a photographer and all, to share some hopefully useful tips to all of you out there who are going to be married, or knows someone who are, "9 tips to consider before choosing your wedding photographer". 
Nothing anyone could have said would have prepared me for the emotional storm that a wedding day would bring. Nobody could have explained to me that devout feeling that filled me up the first part of the day, the surreal and breathless solemnity, during the preparations with my wonderful bridesmaids. The indescribable physical reaction of my heart and body when the church bells stopped tolling and just before the church door opened. The current running through me by Andreas's touch when he took my hand. And how every piece of my being fell into a knowing of finding home, when we both said "I do". Words fall short. But the memory will always be vivid and strong. And I have the amazing, and absolutely priceless, images from the entire day to bring me right back there. I can't count how many times we've looked at them. And it has only been a year…
To my life's love, Andreas. To our beloved families. To our dearest friends. To the sun that shone. To the grand gestures. To the heartfelt moments. And to all that love in the air…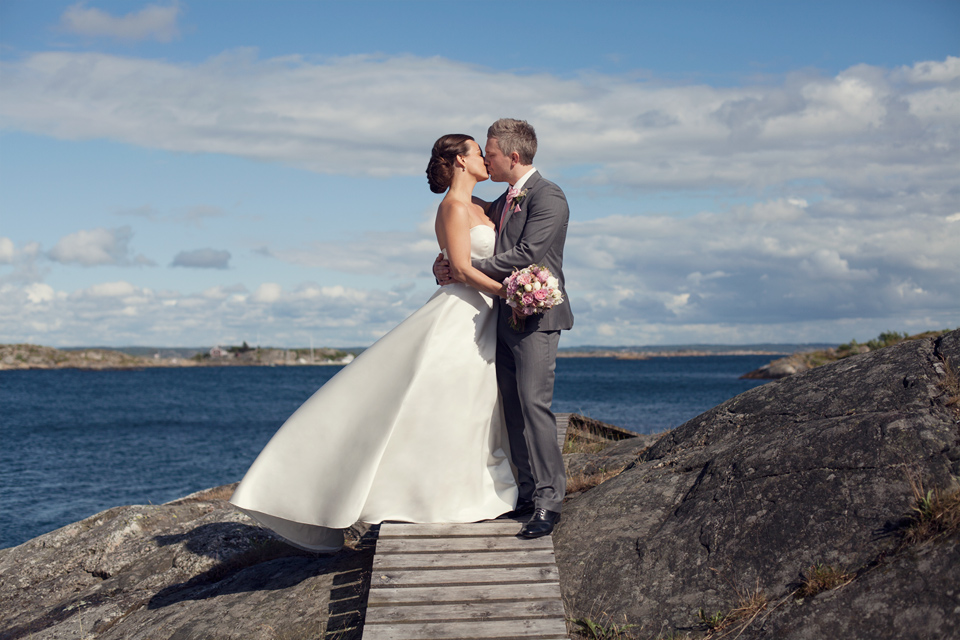 At 08.45 I slammed the door to the car I was going to drive to the hairdresser, panting from the run, sinking deep down into the seat. I felt the rain water trickle down between my toes in my soaked shoes, the skirt of my dress sticking wet to my knees. I held my breath for a second, and then I yelled. I yelled from the top of my lungs. In those few seconds I vented all those built up emotions and anxiety about all those fears of a bride to be. The fears that everything would go wrong and that the weather gods would to let us down on our wedding day. I sat there soaked by the rain, but in that short moment, through the yell, I let go of the last of those emotions.
Instead, a feeling of calm and breathless expectation took their place. Ok… it might rain this day. But it didn't matter.
I was going to marry the best man I've ever known. My kindred spirit. My best friend. The person I trust more than life itself. And immediately I was filled with that complete and utter love again.
This was going to be the best day of my life. With or without the rain. And no matter what would happen. I just couldn't wait for it all to begin. And little did I know that later the weather gods would be my best friends…
I met up with my absolutely amazing (oh how I love you guys) bridesmaids Maria and Kristin at Studio Duo, and of course my beloved Rania, who was the designated photographer for the day. It was almost a surreal feeling seeing them, this being the last day that one of us wouldn't be married. A complete new chapter in our friendship's history. Maria, Kristin, and Jannicke, our fantastic hair dresser and make up artist, had prepared bubbly drinks, coffee, fruit, and sweets and we surely had a lovely morning in the studio.
I kept on going back and forth from incredible happiness and laughter, to completely going into myself, trying to grasp the emotions going through me and collect myself.
The girls who are mostly used to see the happy giggly me surely thought I was behaving differently, but I'm sure they understood. I've never felt such a devout feeling ever that I did that day.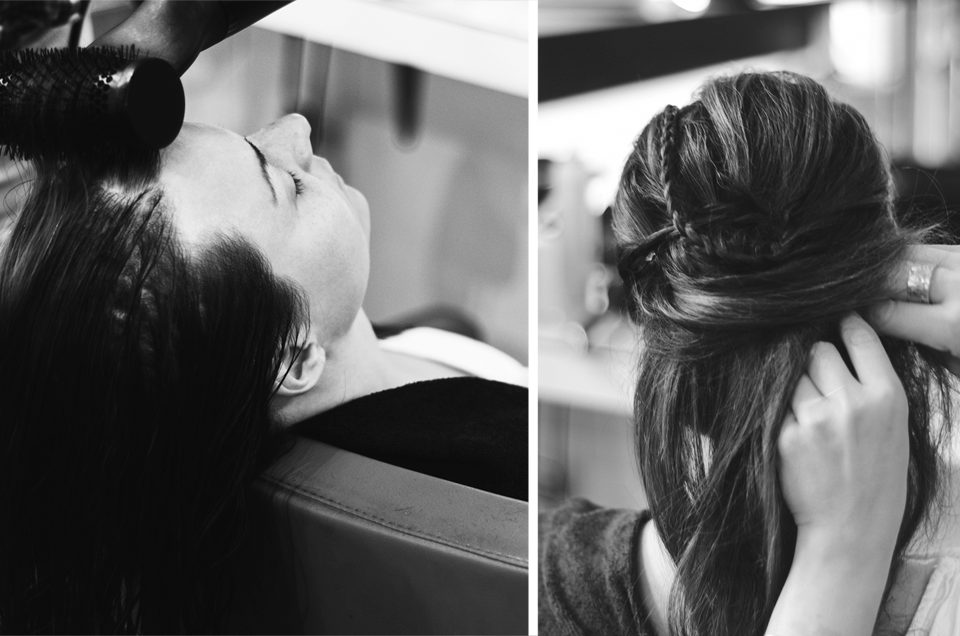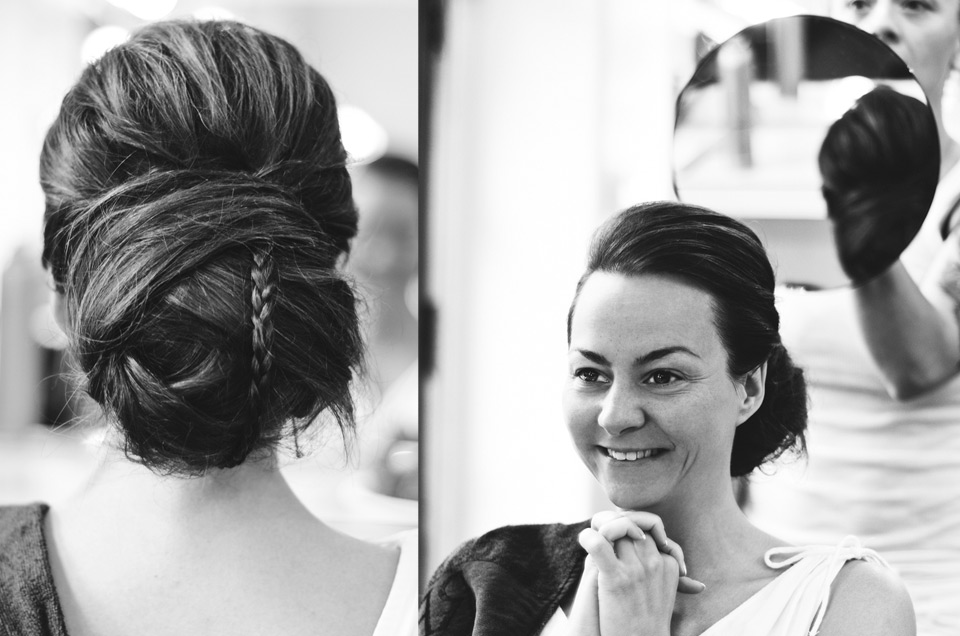 When Jannicke showed me my hair in the mirror I think I couldn't speak (for once). My eyes filled up with tears and I felt my heart land in my chest. I loved it. I was going to love my hair on my wedding day. What a fantastic and relaxing knowledge. I'm so grateful to you Jannicke, hearing me and creating something even better than I had hoped for.
I'm so happy Rania was shooting during the preparation time, cause I've realized that this part of the day was also a very important one. Spending time with my girls and going through all those emotions… I'm so truly happy I have beautiful images of it all to remind me for all coming future.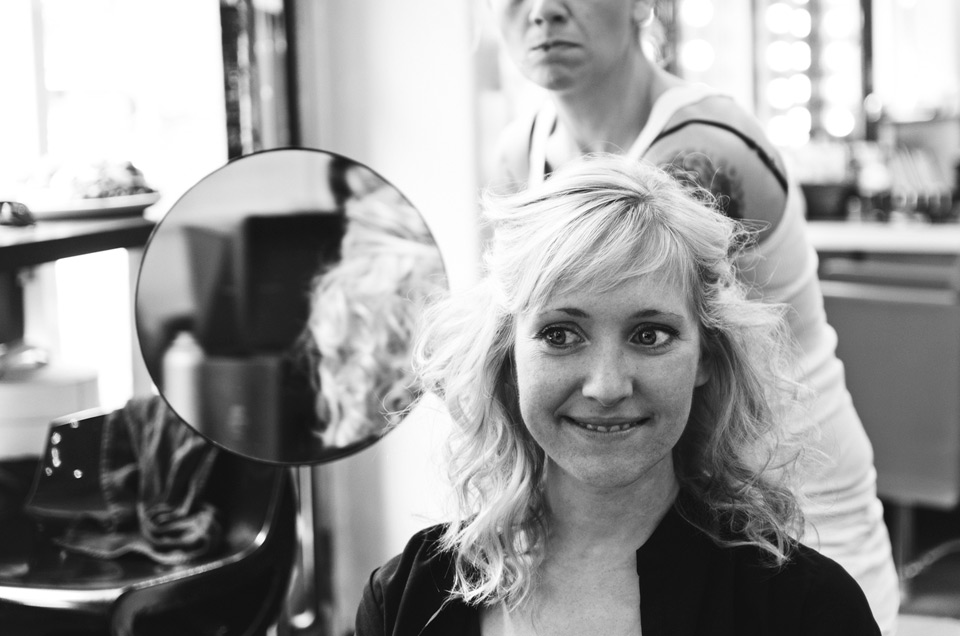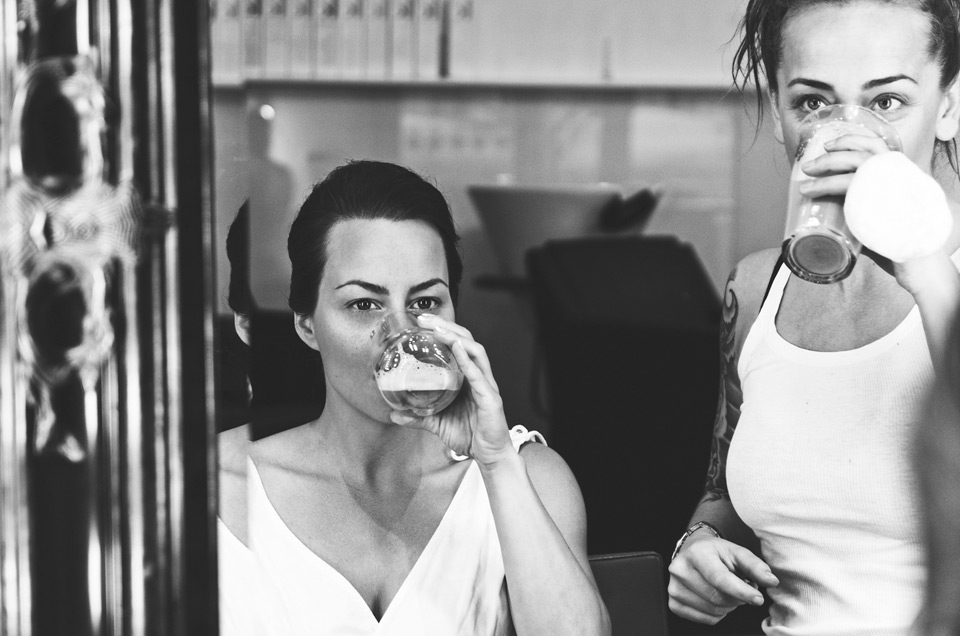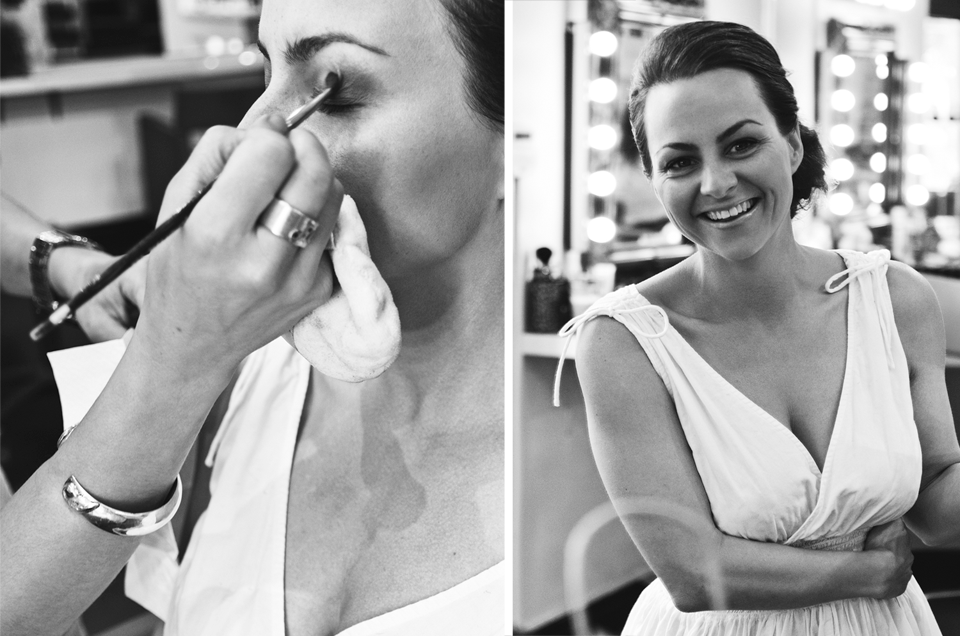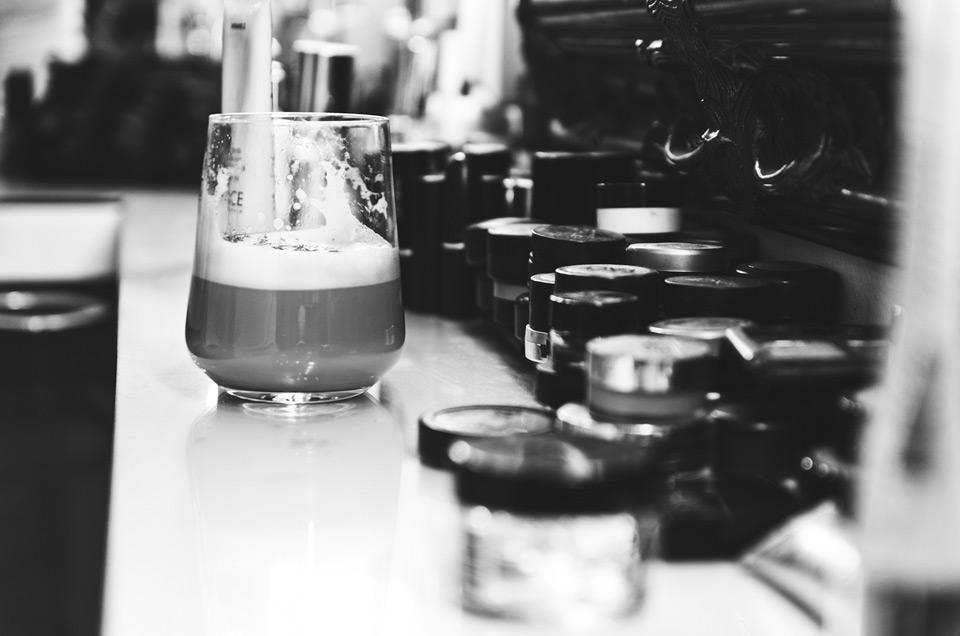 After the hair and make up session Kristin drove us all to Saltholmen ferry terminal where we took a boat with the destination Styrsö island. The wedding was going to take place at Styrsö church (Styrsö kyrka) in the southern archipelago (södra skärgården) outside Gothenburg (Göteborg)  and we were kindly borrowed the beautiful cottage from my sister-in-law close by the church, where we could get dressed and do the final touches.
Andreas and his best man and marshal were close by in my parents-in-law's house so we had to sneak by it not to be seen. The weather was terrible on our walk from the ferry to the cottage and hunched over we tried to cover us up as much as possible to try to save our make up and not getting our beautiful hair-dos to blow away. It was so nice getting inside the cosy cottage, taking a few breathes, and starting to get ready.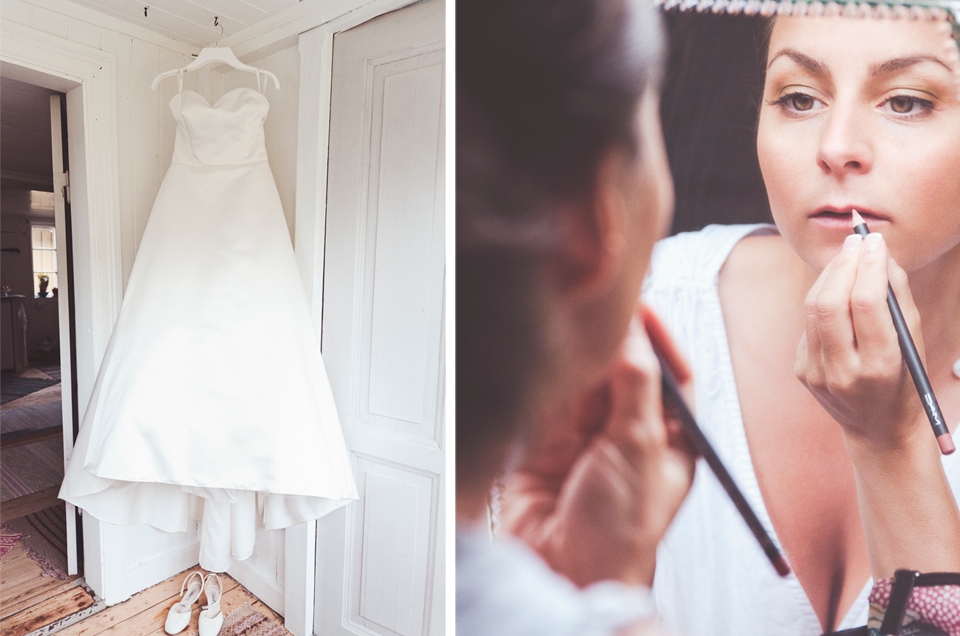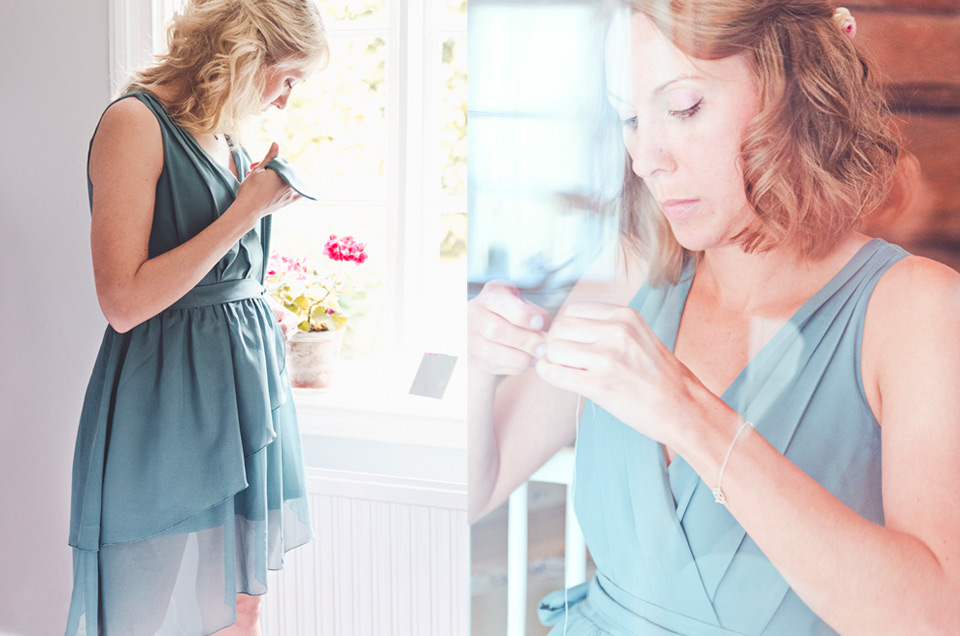 All those emotions were even more intensified and we got dressed under a very attentive mood.  Maria and Kristin helped me got into my dress. I had been practicing at home to tie a perfect bow for the waist band of my dress, but my hands were shaking so terribly and I had a real hard time doing it right…
And then something magical happened…
Rania, who were walking around shooting pictures of us and also my dress, jewelry and flowers, came in from the outside with the most wonderful news ever! "THE SUN IS SHINING!" she announced. The sky had cleared and there was a beautiful blue sky! And the cottage was instantly filled with an amazing noise of romping and laughter! The bow came together and everything felt wonderful!
Later I was told that when all the guests had arrived with the boat to the island they were met by gorgeous sunshine and had a dry and lovely walk on the beauuuutiful pathway that is leading from the boat to the church. I couldn't ask for more.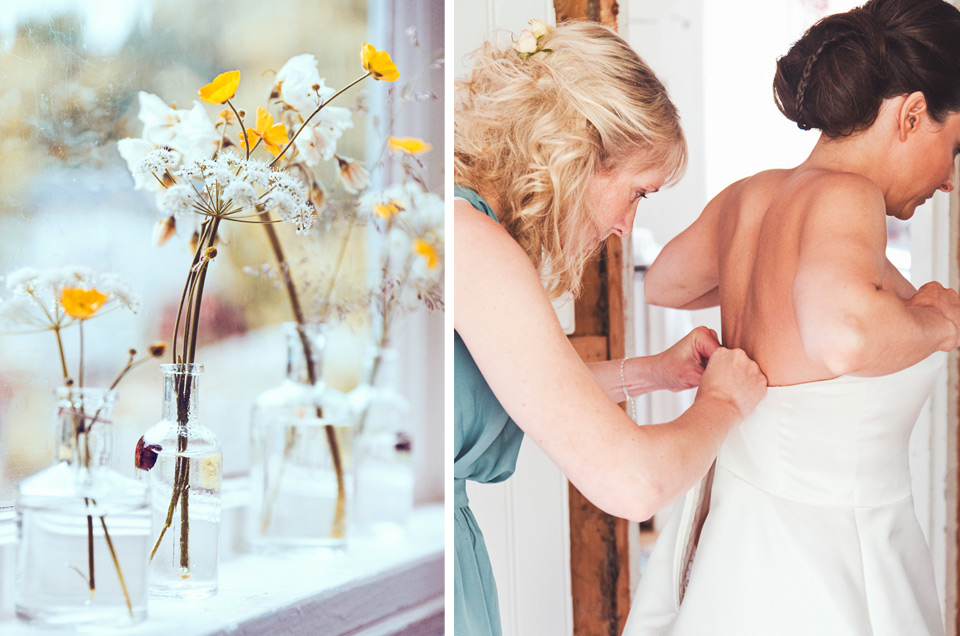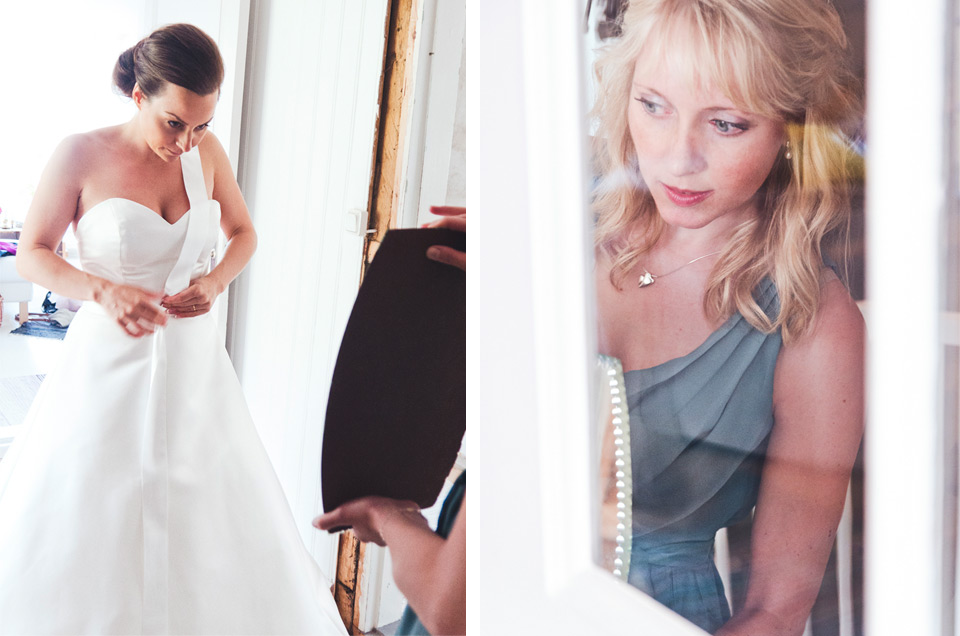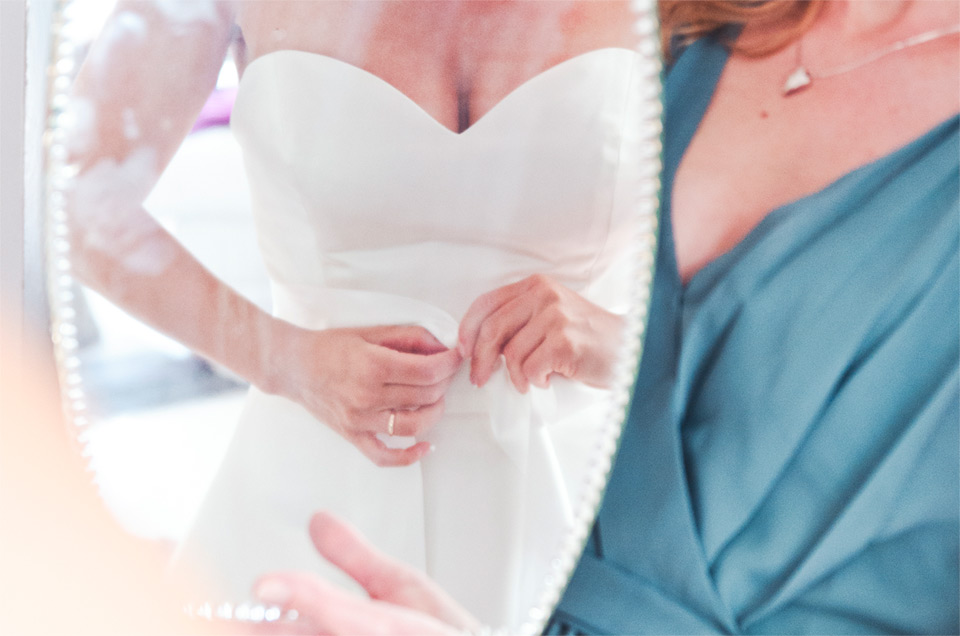 I had asked the very talented, and oh so kind, florist Sissel Karlsson of Fröken Blomma to do my bouquet and also the buttonhole flowers for the men, and she kindly added some pretty roses for us to use for the bridesmaids's hair. The bouquet was everything I'd hoped for and I felt so happy and proud to have such a lovely creation in my hands that day.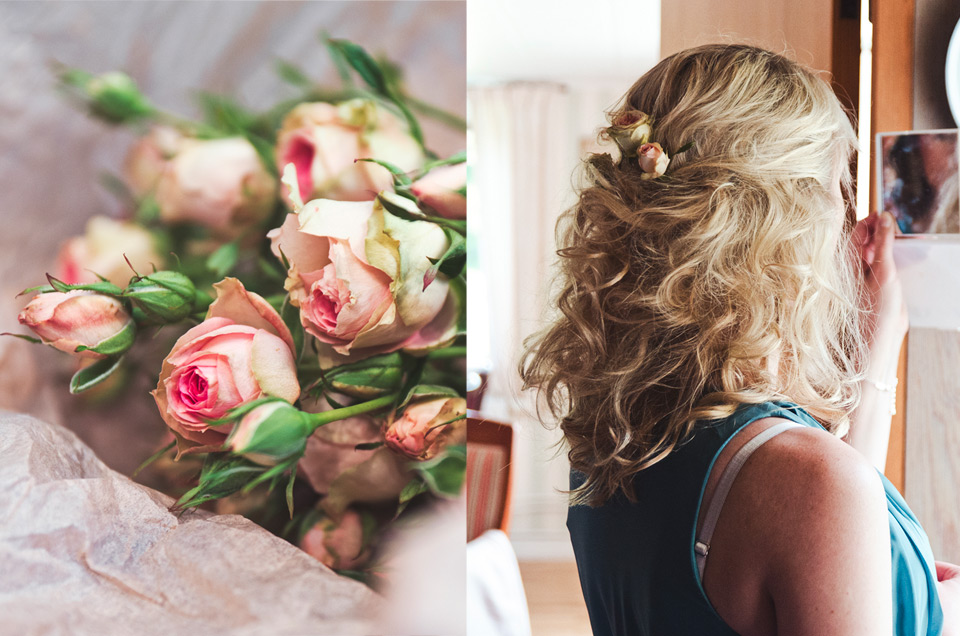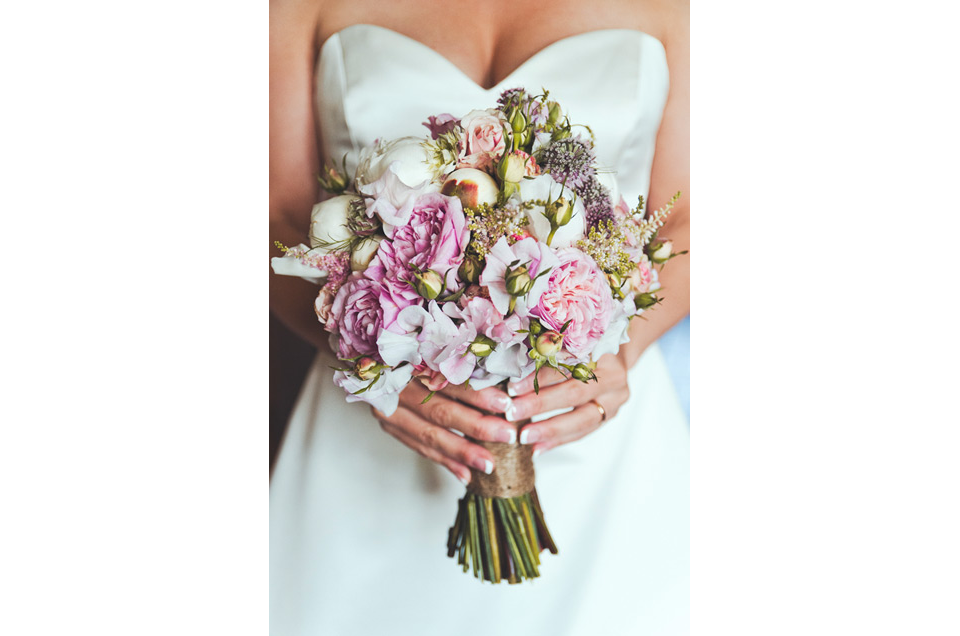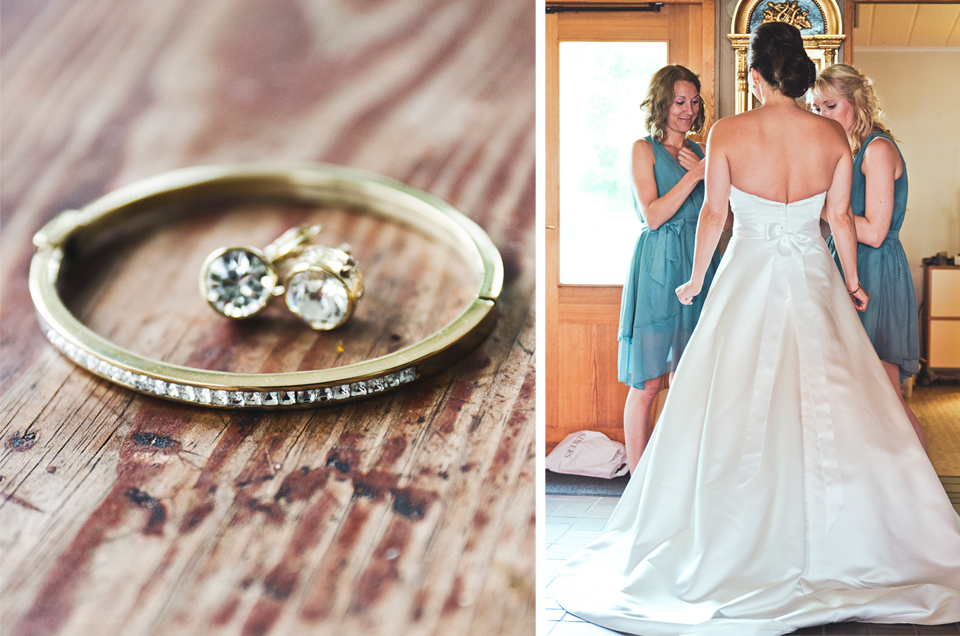 We walked from the cottage to the building next to the church where we waited for the church bells to ring. Those few minutes were so intense. When my father walked in, he took a look at me and I saw the expression on his face change, and that look filled my eyes up within a second. "Wow, you look so beautiful" he said with a tone in his voice I've not quite heard before. I had to quickly look away and plead him not to say any more because I truly didn't want to start to cry there and then, just minutes before the ceremony. And oh I was close…
We tried to gather our selves for a minute, and then I took Dad's arm and we started to move towards the church.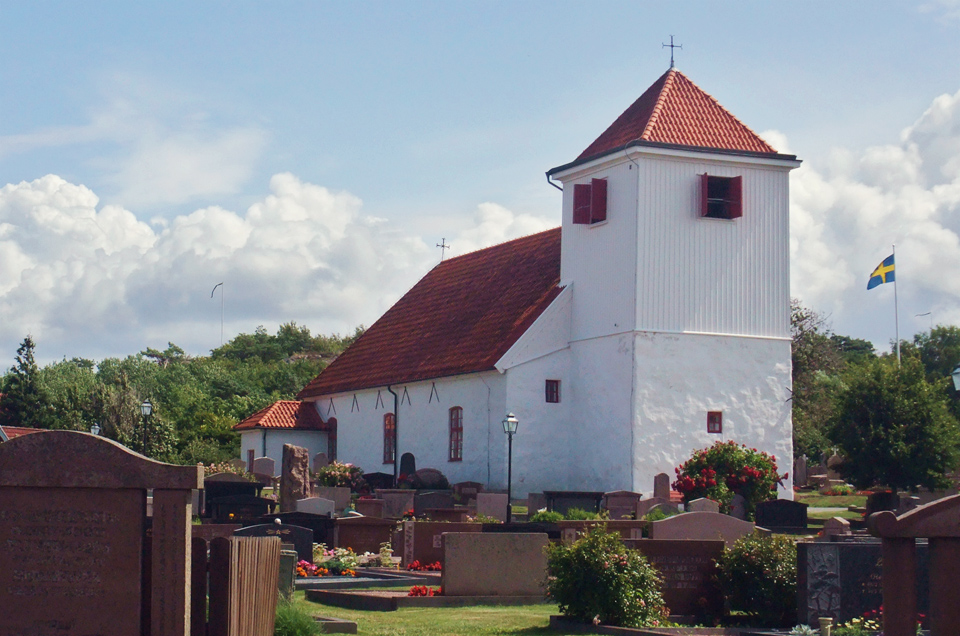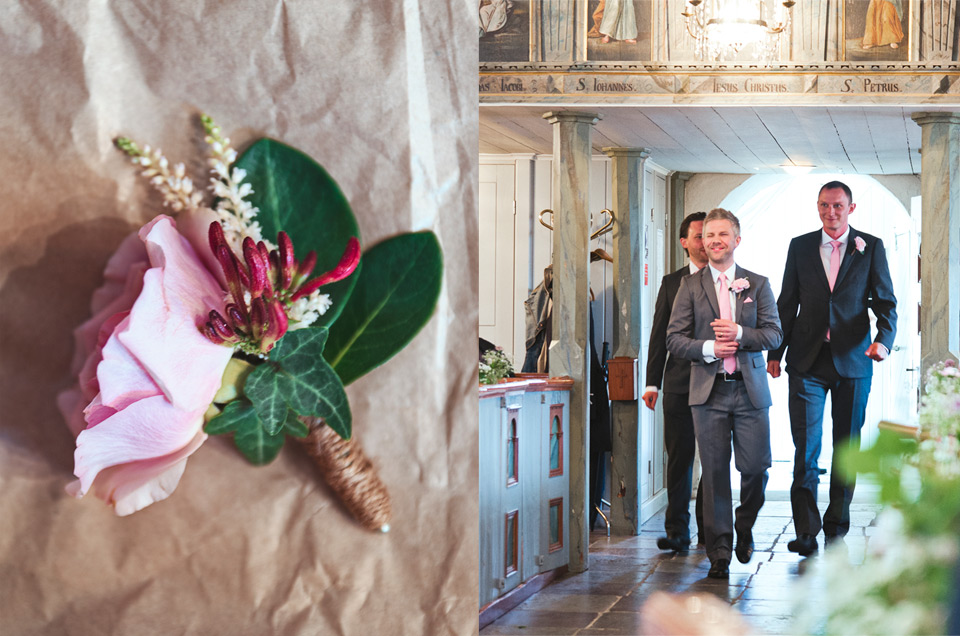 It was time. The church bells rang. A few seconds of frenzy, the brides trying to get their hair in order, place the train on my dress right… and my heart almost beat out of my chest. The moment was here, that I've waited for with such longing. Behind those doors my beloved awaited. All the closest and loved ones of our lives where inside. I was going to be the wife of Andreas. He was going to be my husband. The feeling was surreal. I could hardly breathe…
The sweet tunes of Aerith's theme started to play on the grand piano.
(listen to it here)
And then the doors opened…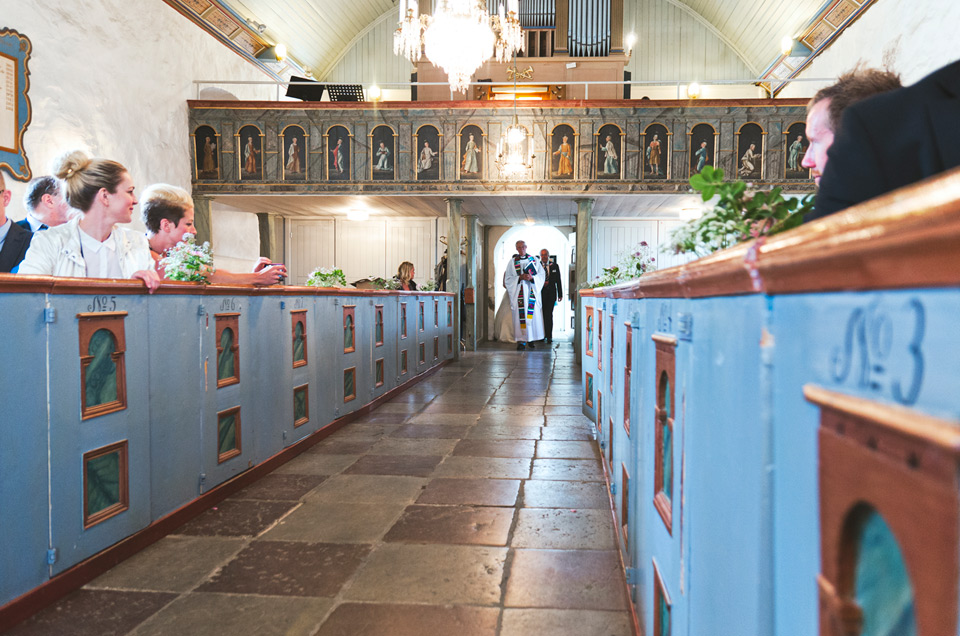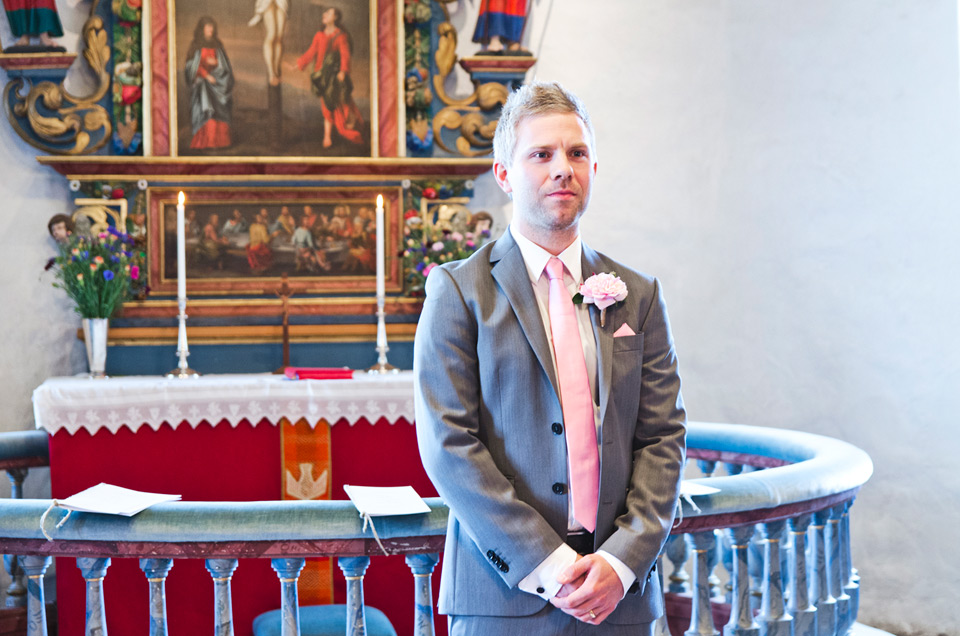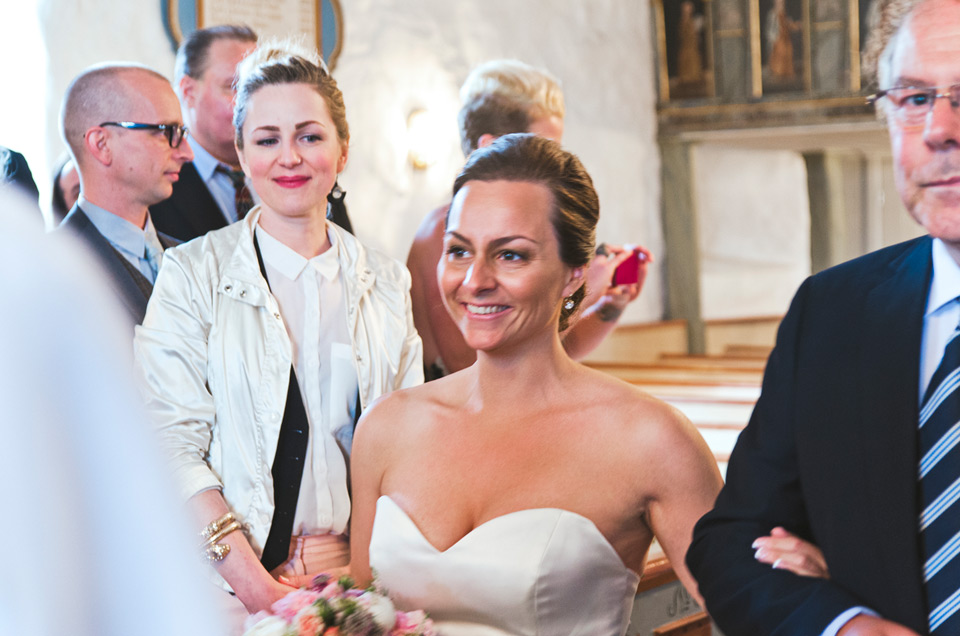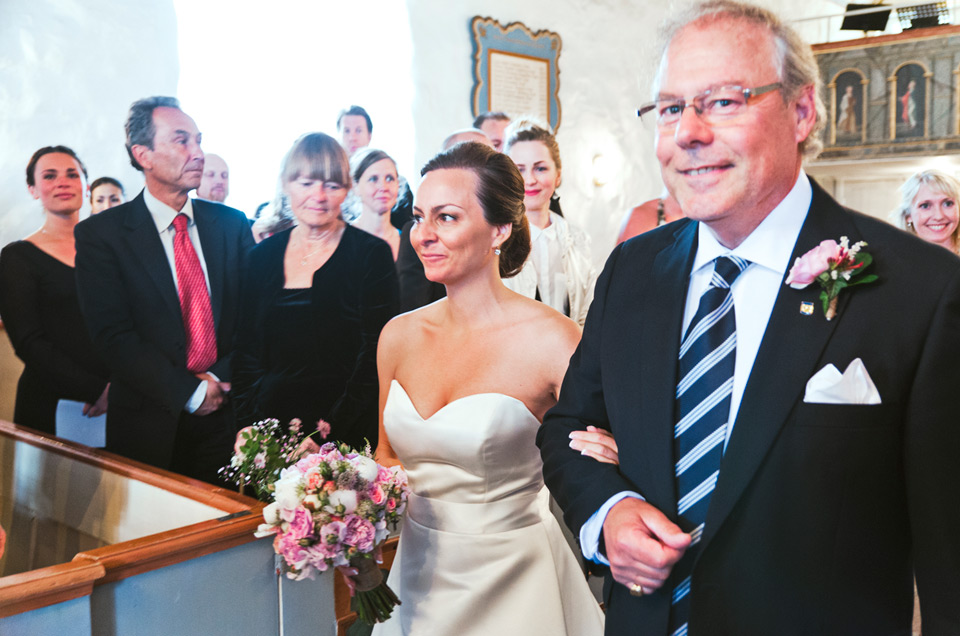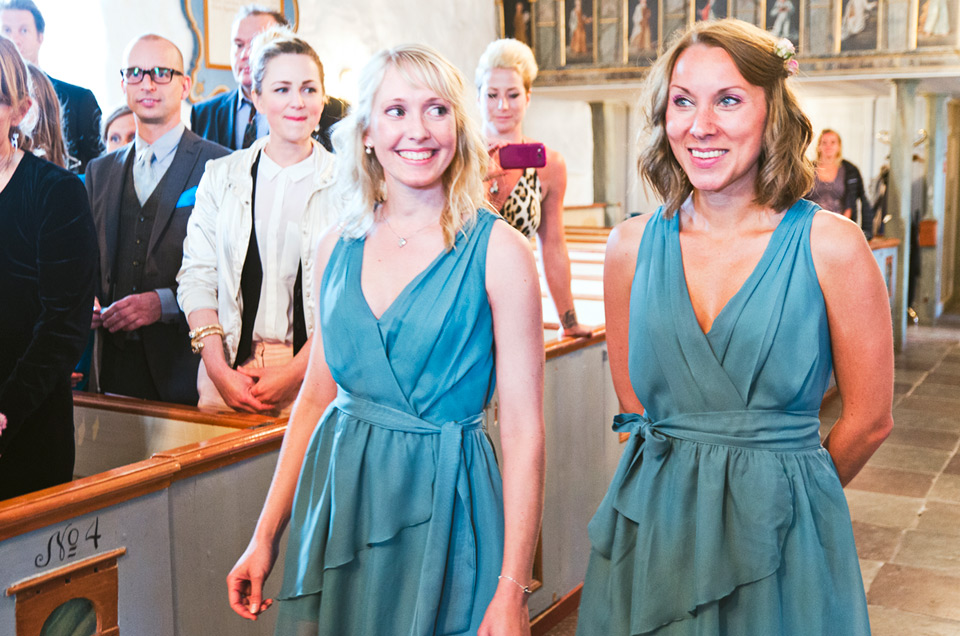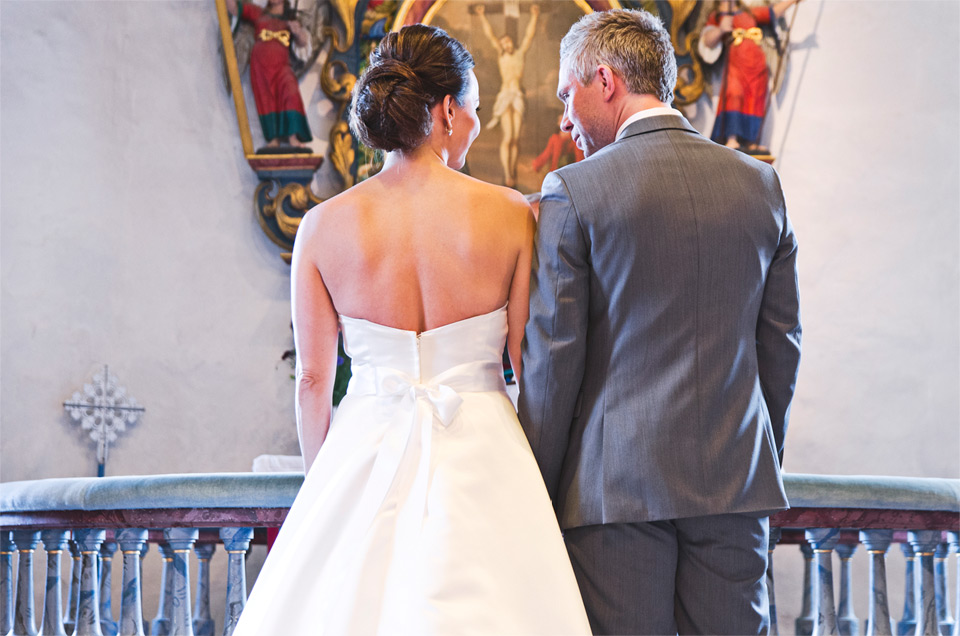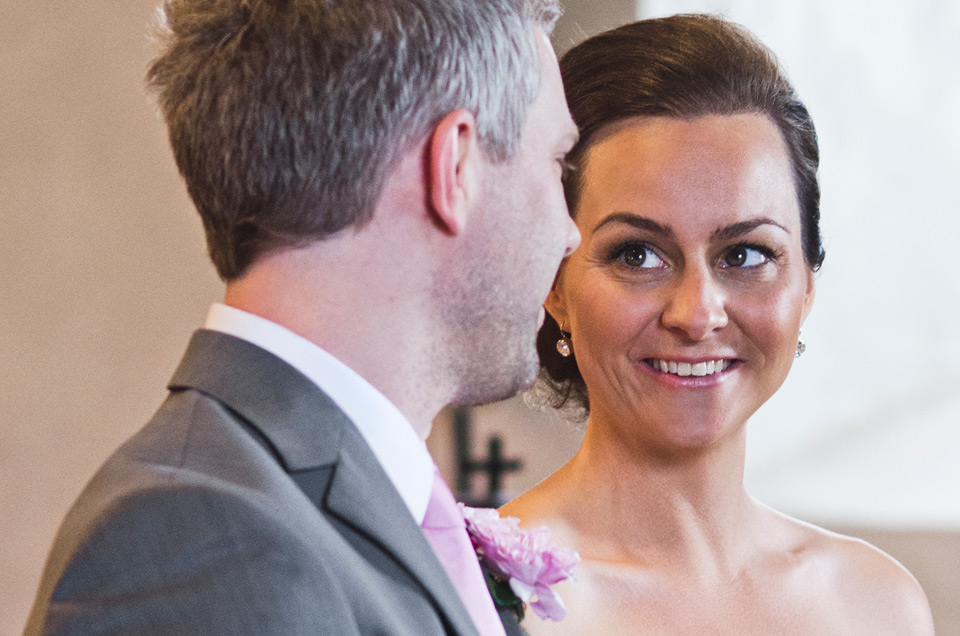 When I saw Andreas's face there down the isle, I couldn't had been more sure of anything in my entire life. I could hardly pace myself and almost wanted to run towards him to be by his side. I'm so glad I had my father's steady arm to hold on to. Thank you Dad. You are the best father a girl could ask for. I love you so.
I hardly know what the priest said during the entire time. I was utterly filled with emotion and the touch of Andreas's wonderful hand in mine. I looked over at my brides maids and I felt so grateful for having them in my life.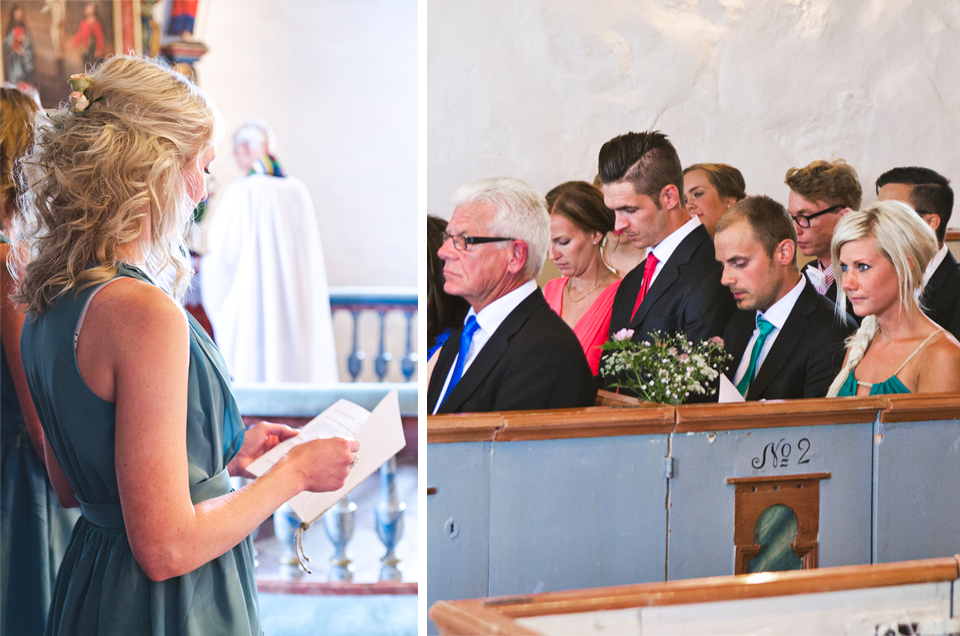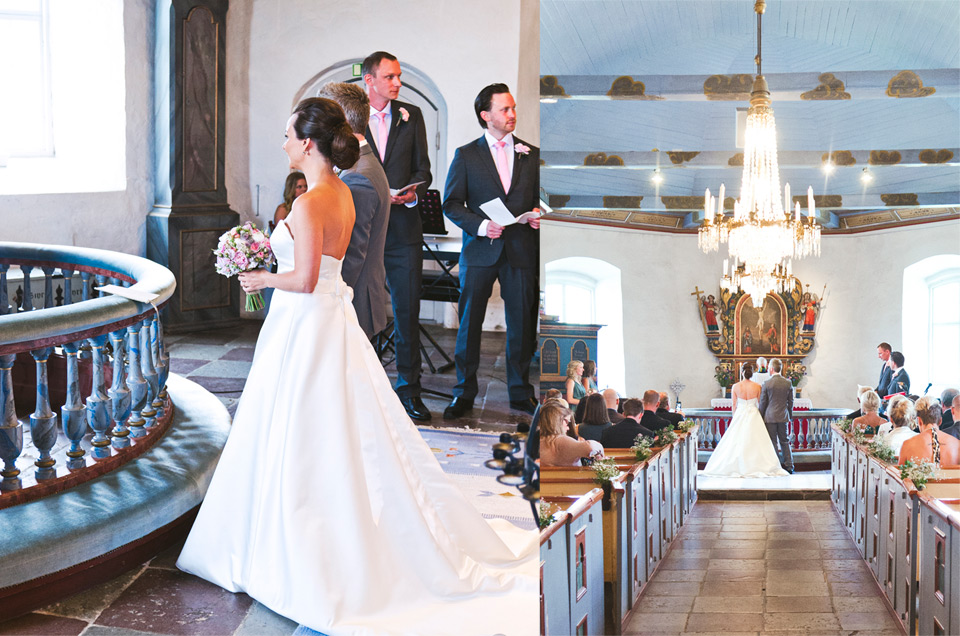 During the whole ceremony I struggled not to burst out in tears out of happiness. It was surely difficult, especially when I tried to take comfort with the best man Håkan. I thought to myself "Håkan is steady. If I look at him I will be steady too". One look at Håkan and I saw his eyes red, touched with emotion, and my own got even worse haha. No help there.
It was a magical ceremony. The absolutely wonderful Alice Mattsson sang our songs like an angel, truly surprising everyone with her gorgeous voice, and I doubt there was a dry eye in there (I heard a lot of sniffles behind my back :) ). Andreas had chosen 'Bridge Over Troubled Water' to be sung to me, and I had chosen 'Come What May' to Andreas. And it was so beautiful. From the bottom of my heart, thank you Alice. It was pure magic.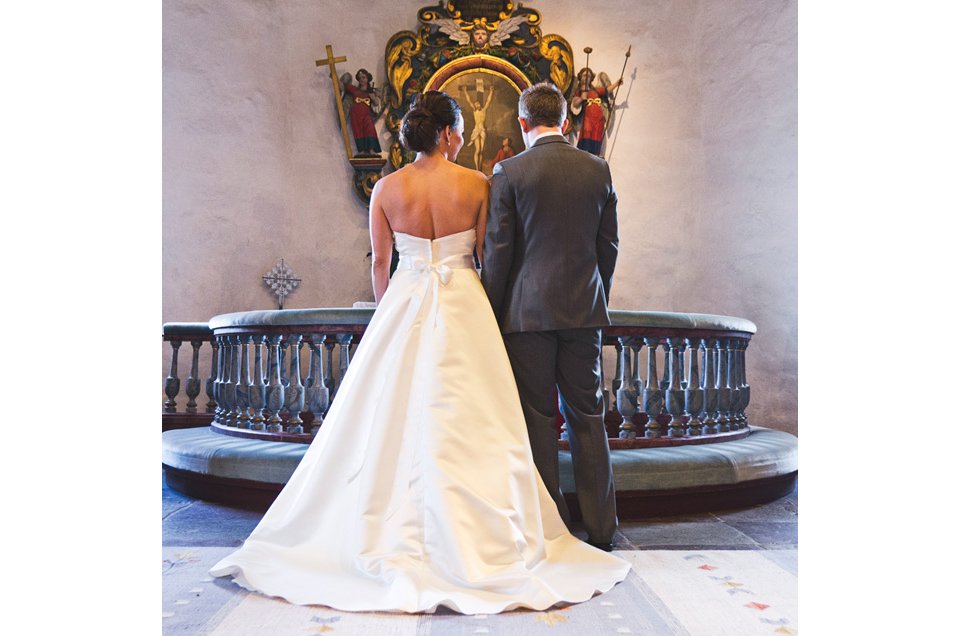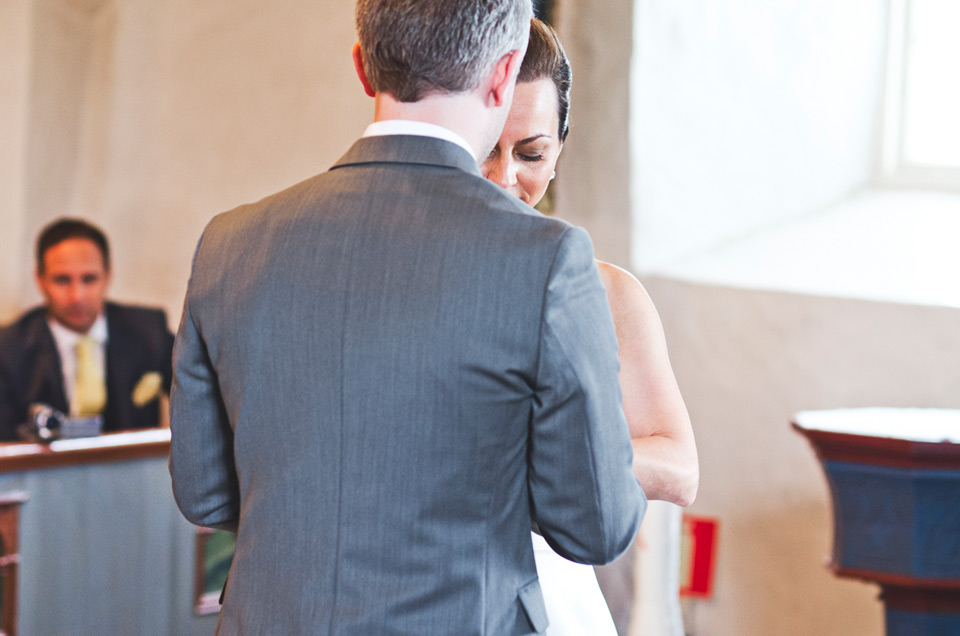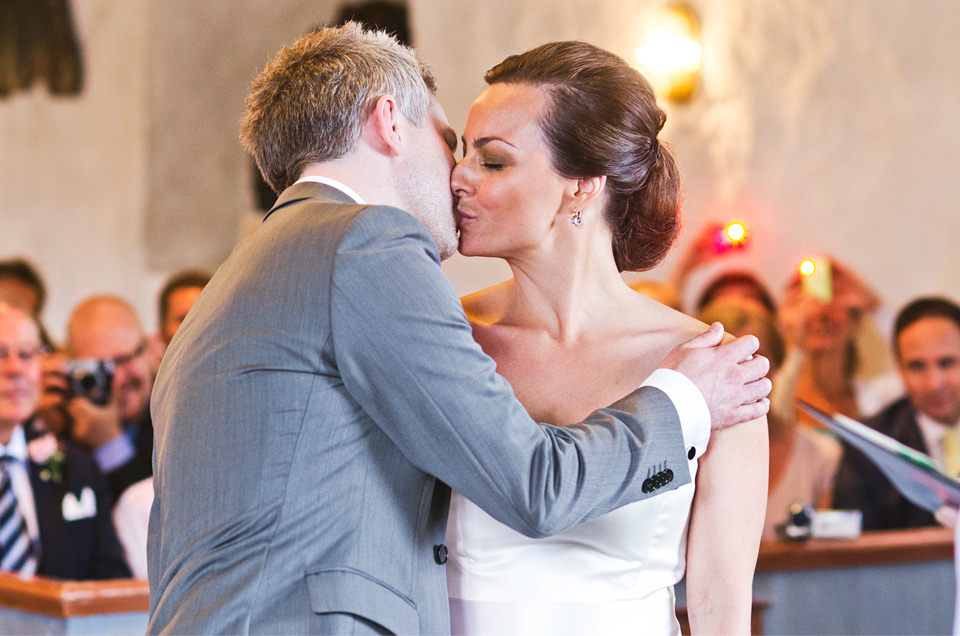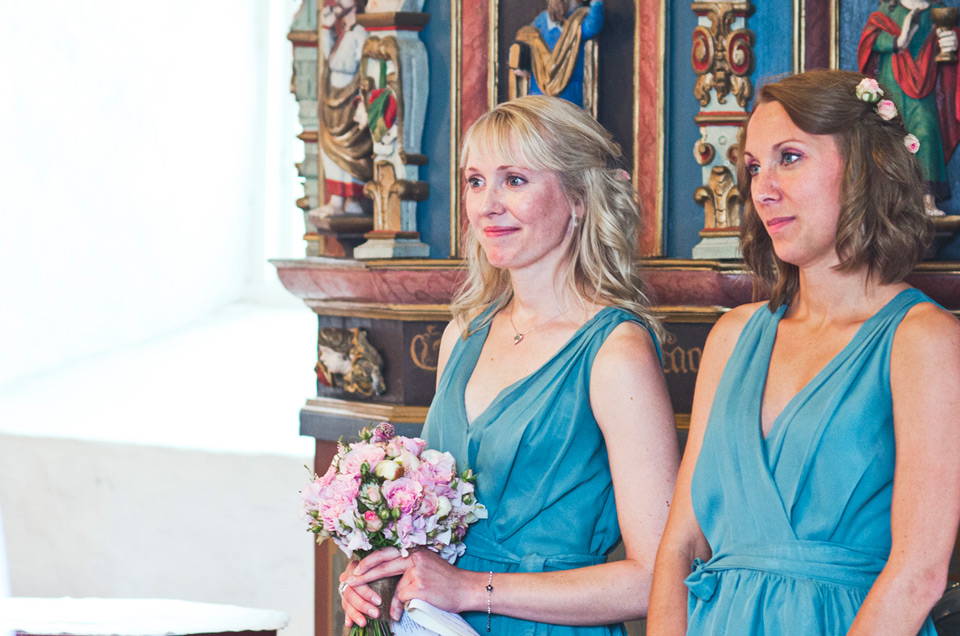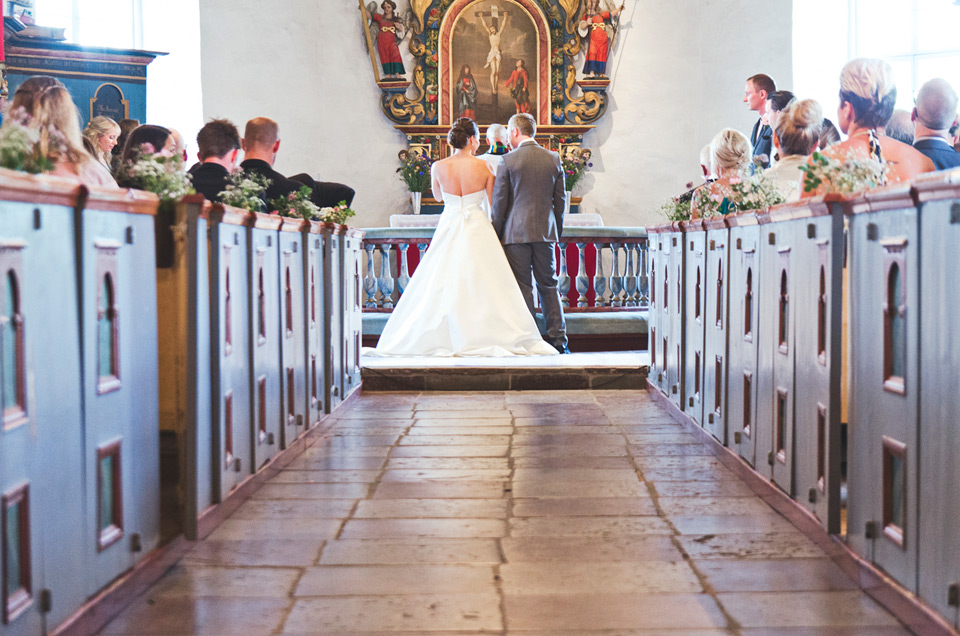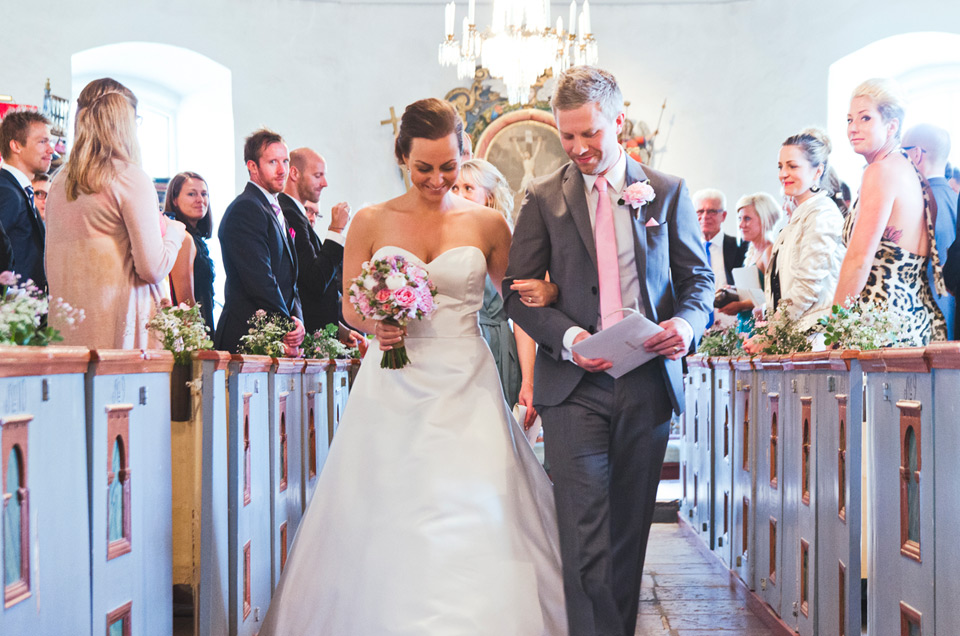 I never imagined that we would laugh out loud during our ceremony. But when it was time for our vows both Andreas and I misspoke a little and all those happy tears were exchange for pure laughter. And it felt soooo good to hear the church get filled with the sound of happiness. It felt like a beautiful symbol of Andreas's and my relationship. Filled with love and laughter.
When we got to turn around and walk back down the isle every little tension were released. It was a fantastic feeling. We were finally husband and wife. As we were meant to be. I can truly say that this is what complete happiness feels like.
And when we all came out through the door, the sun was greeting us all. Although in companion with a rain of rice!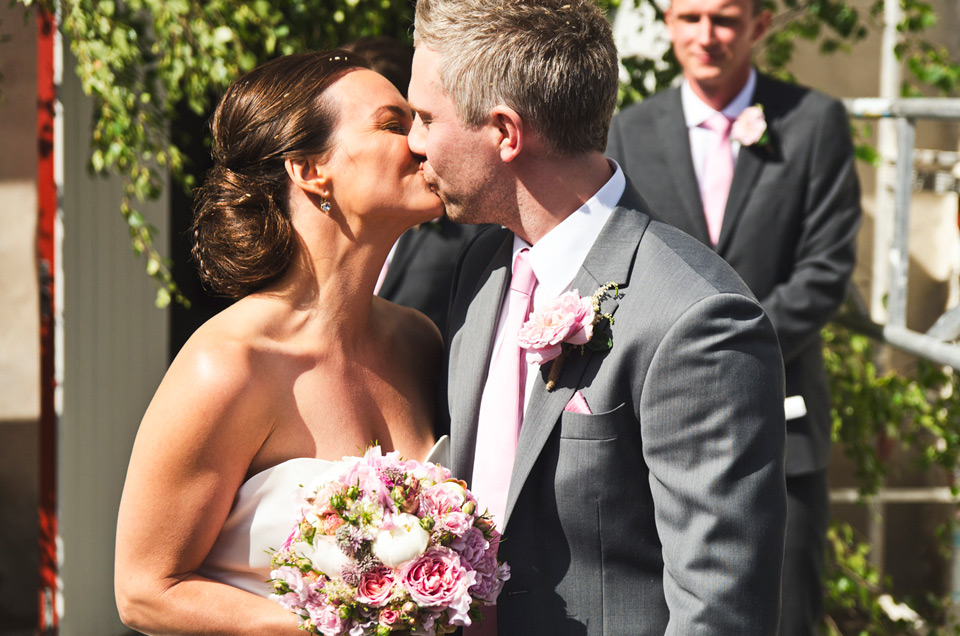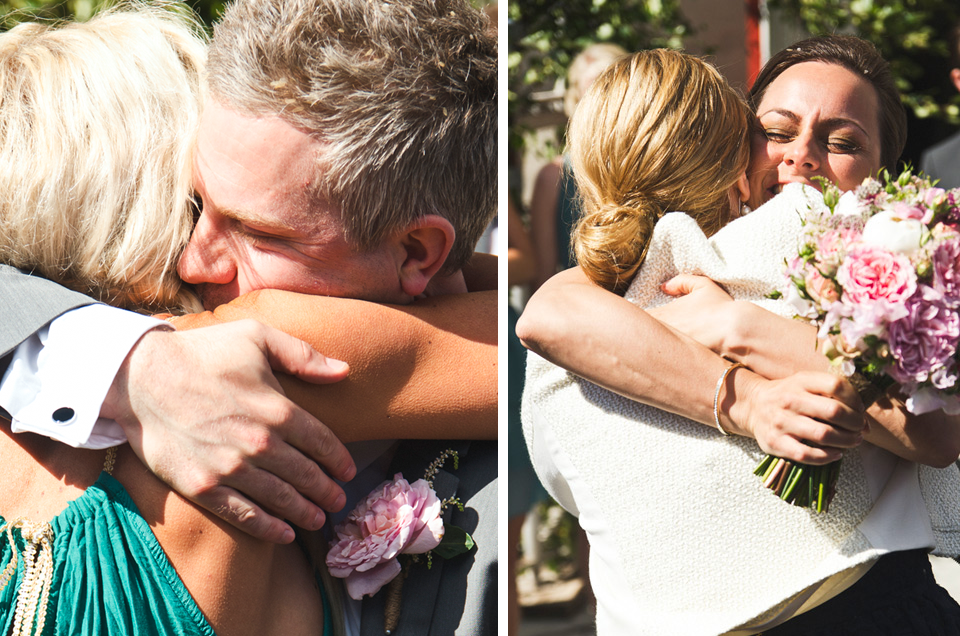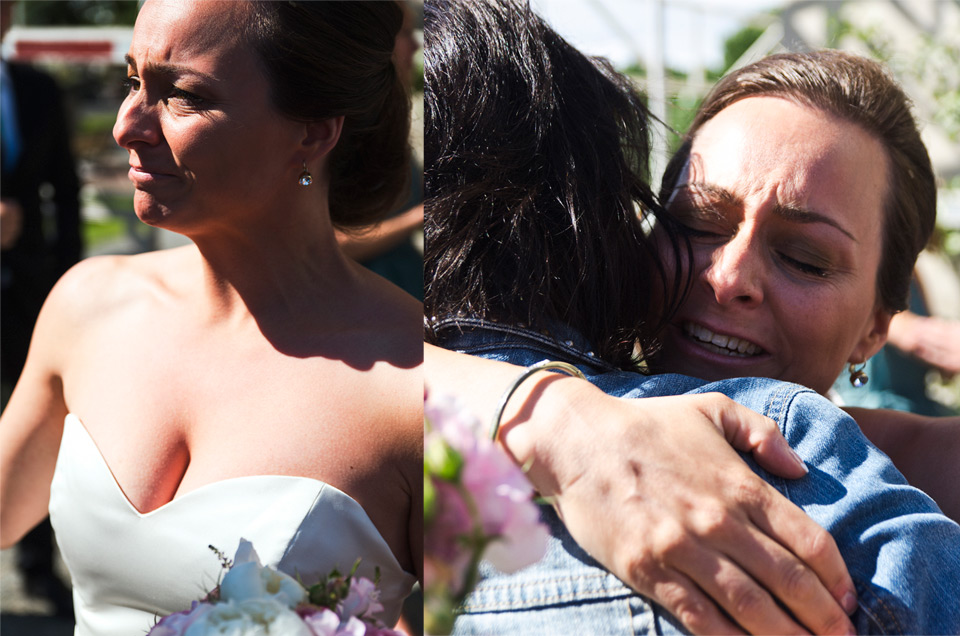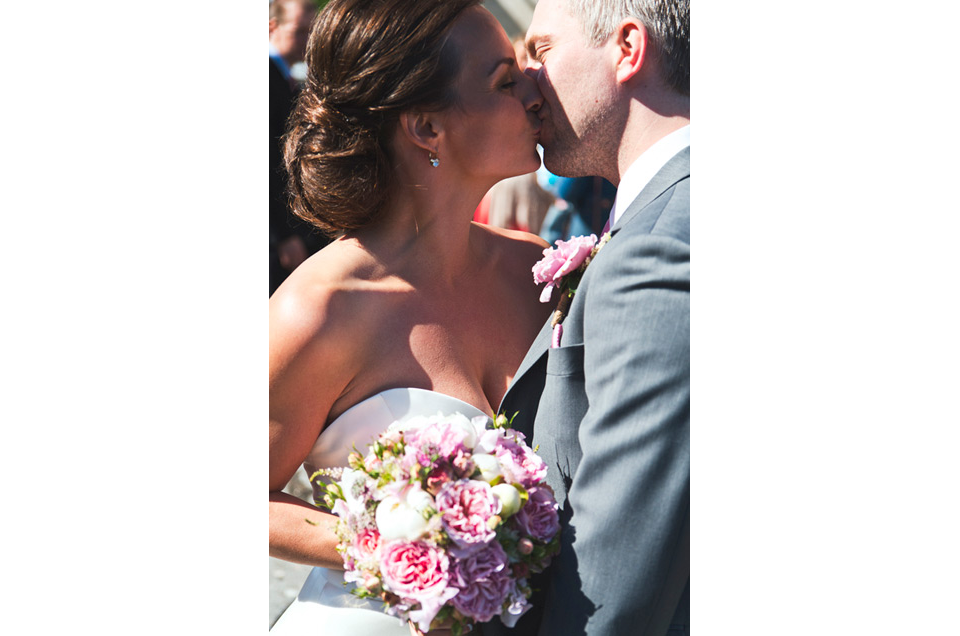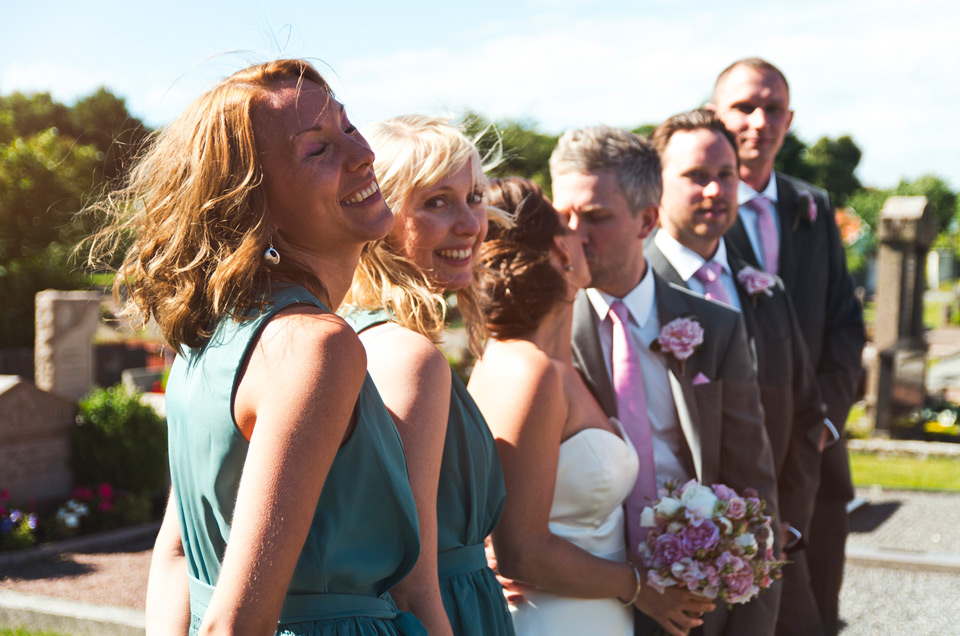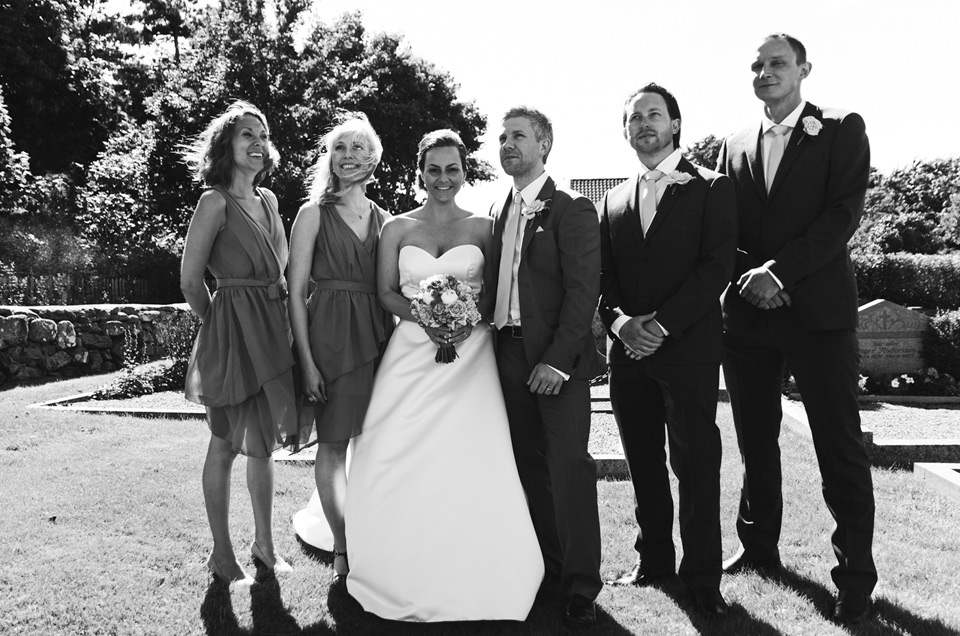 On the island of Styrsö no cars are allowed so everyone is driving around in rebuilt golf carts or flatbed mopeds. So what would suit better than being driven away not by a luxurious car, but an enhanced flatbed moped!? We absolutely loved it, and it resulted in a lot of enthusiastic cheering. A HUGE thank you to my now father-in-law who had decorated it with so much love and who also was our chauffeur.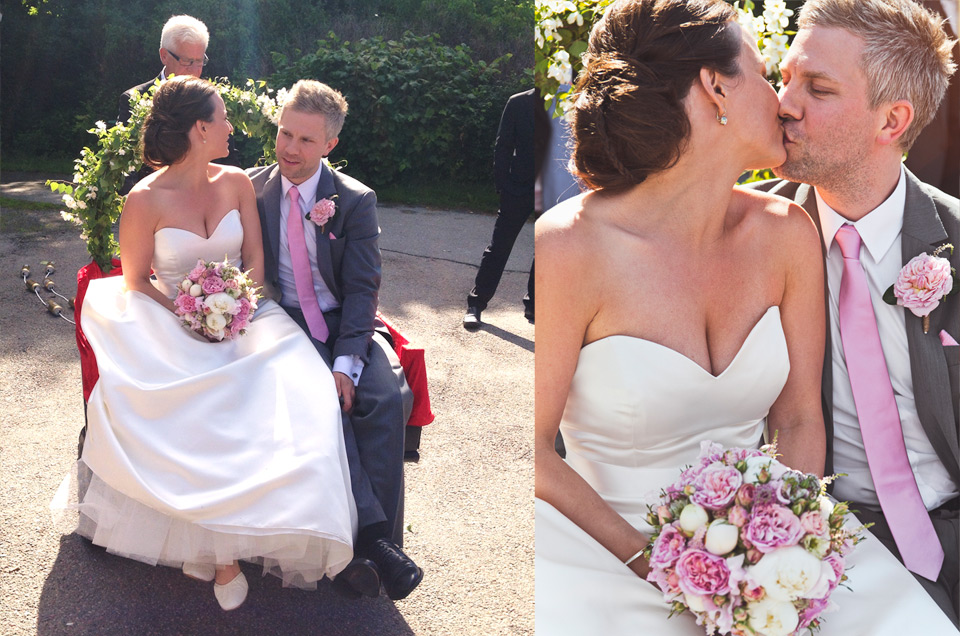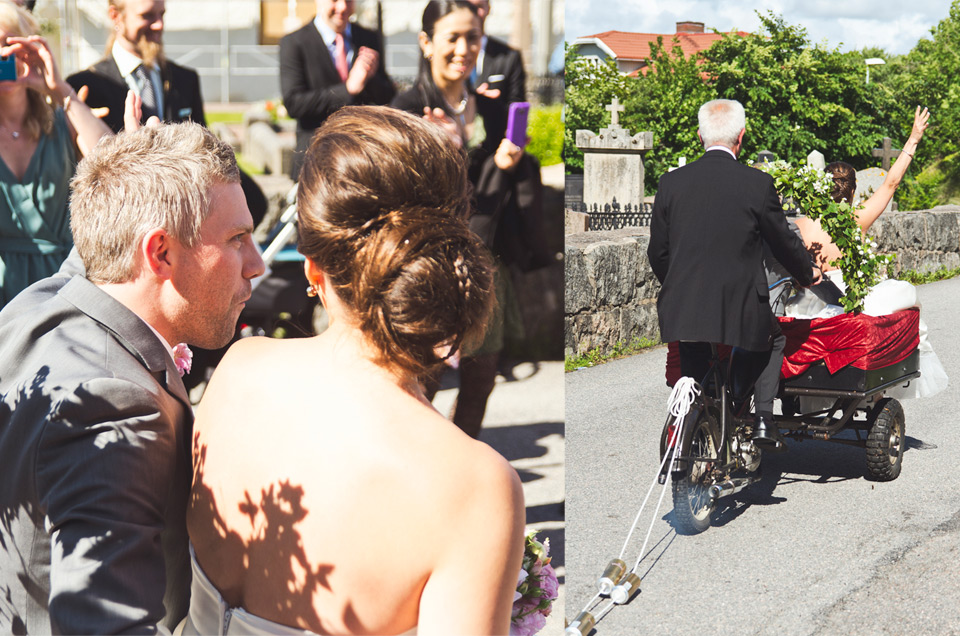 As we drove off on our moped our guests took the beautiful walk back down to the ferry terminal where we had leased a big boat to carry us all to the neighboring island Stora Mosskullen where the dinner and party were going to take place. There are only two houses on Stora Mosskullen, one of them being an old boatyard house that is now owned by the restaurant and catering company Utsökt mat. We were lucky to got to rent the house and all the services from Utsökt mat, so all we had to do was to sail over there and get the party started!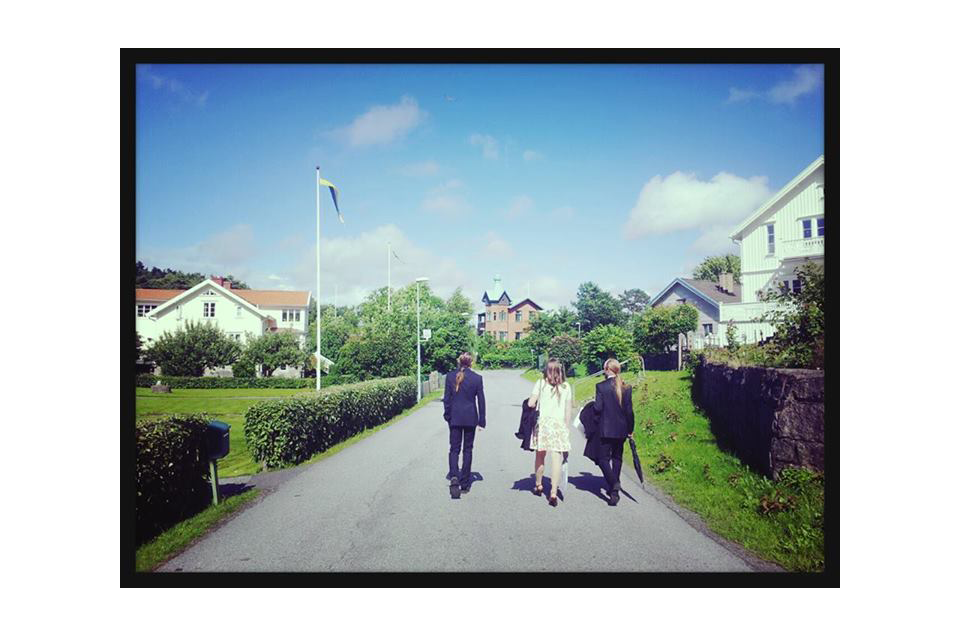 Above photo: courtesy of Aki Hiraga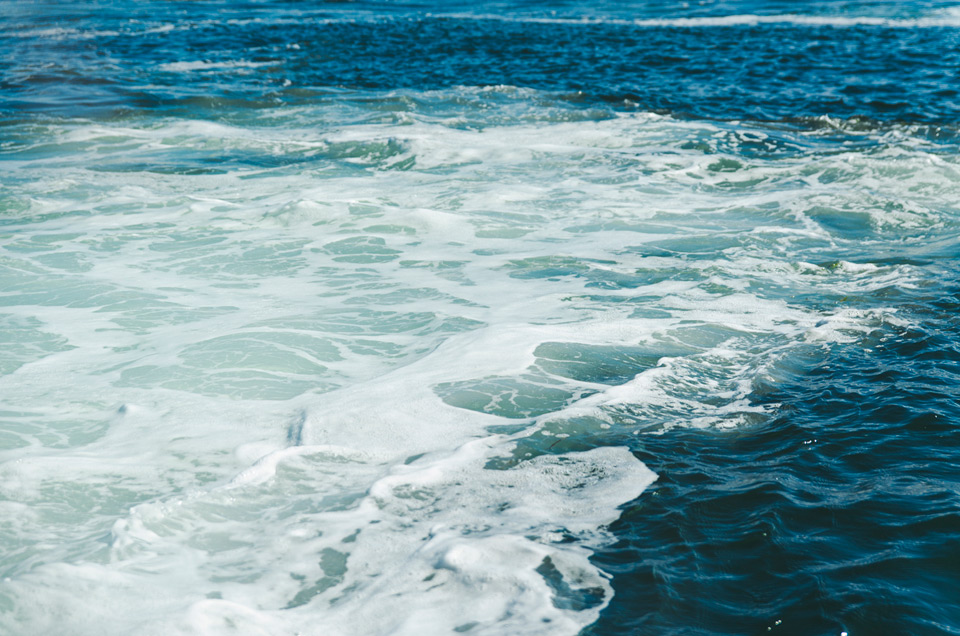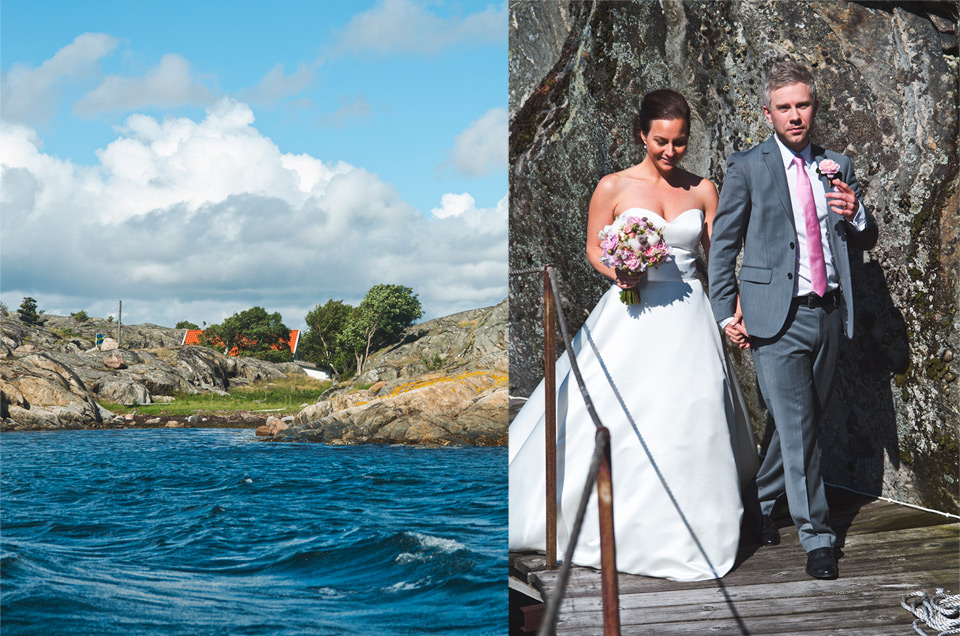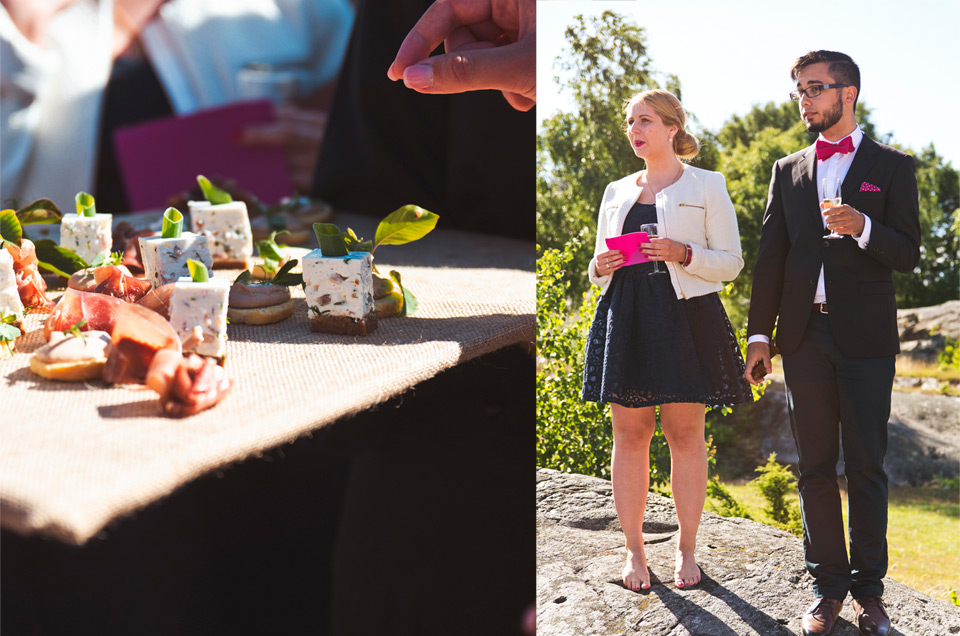 We had asked Emma and Nadim (above) to be our toast madame and toast master and surely they couldn't have been a better or more loving couple and hosts! We love you guys!! <3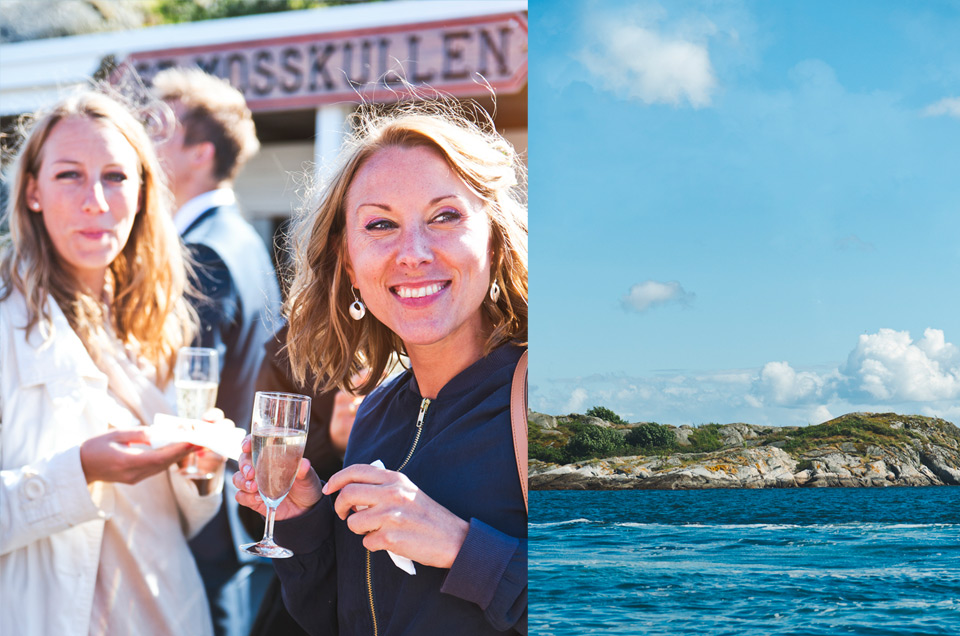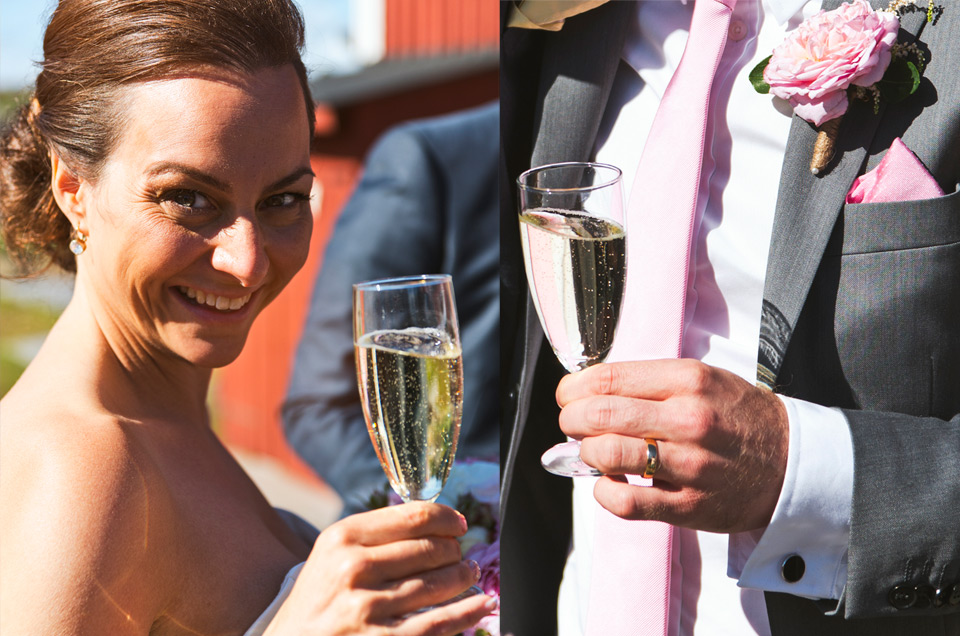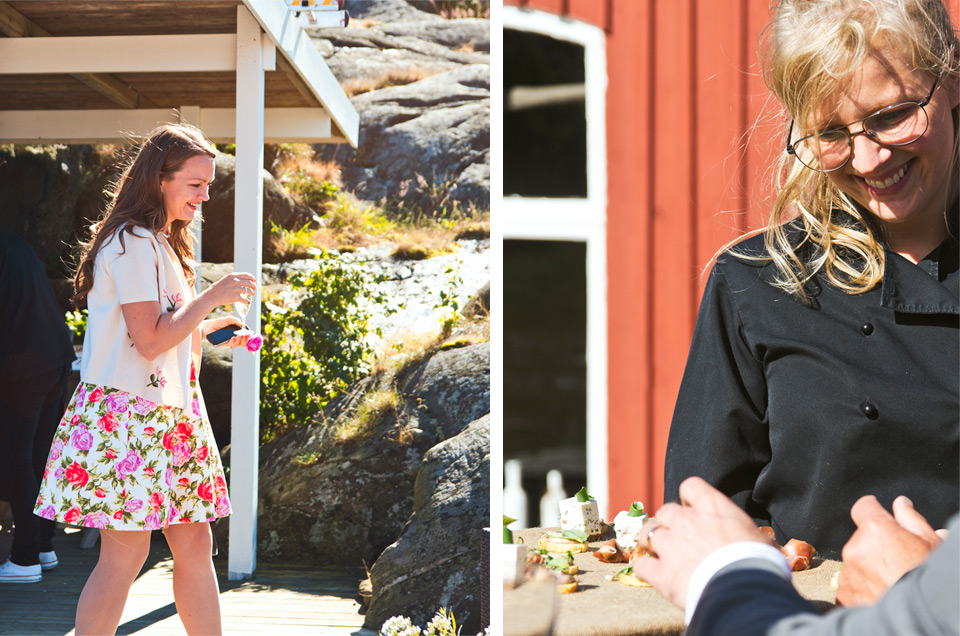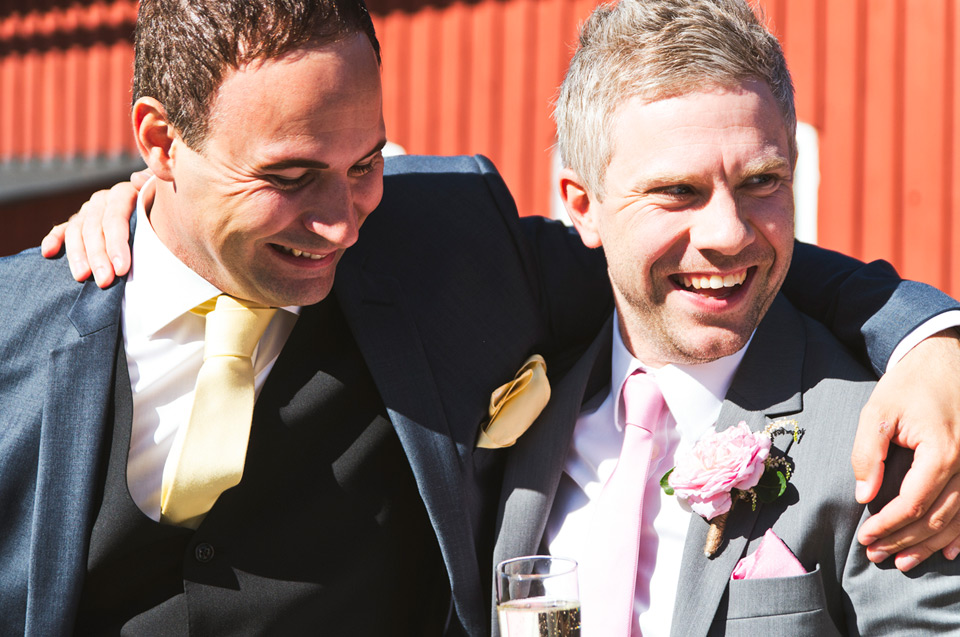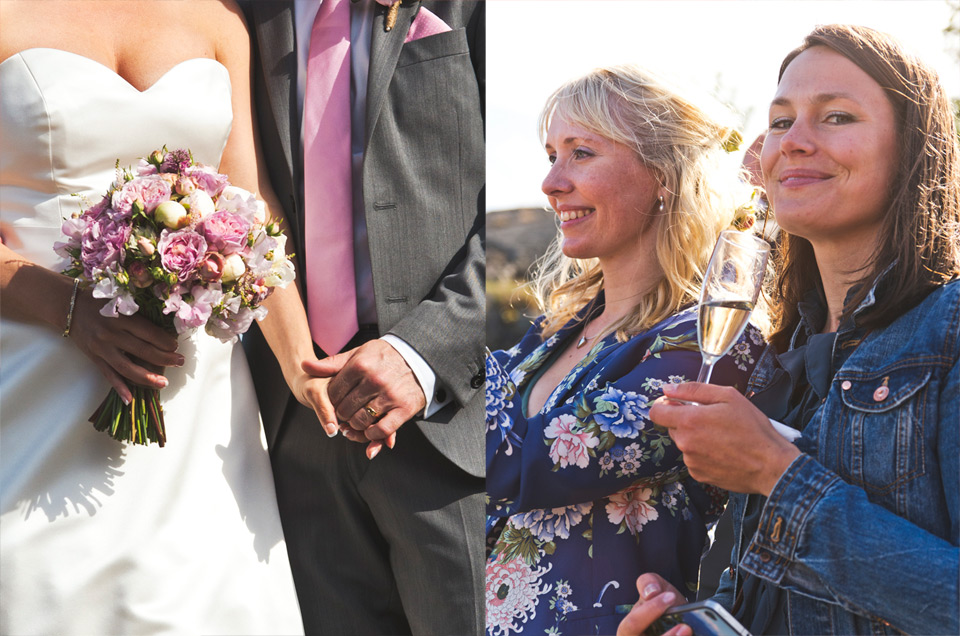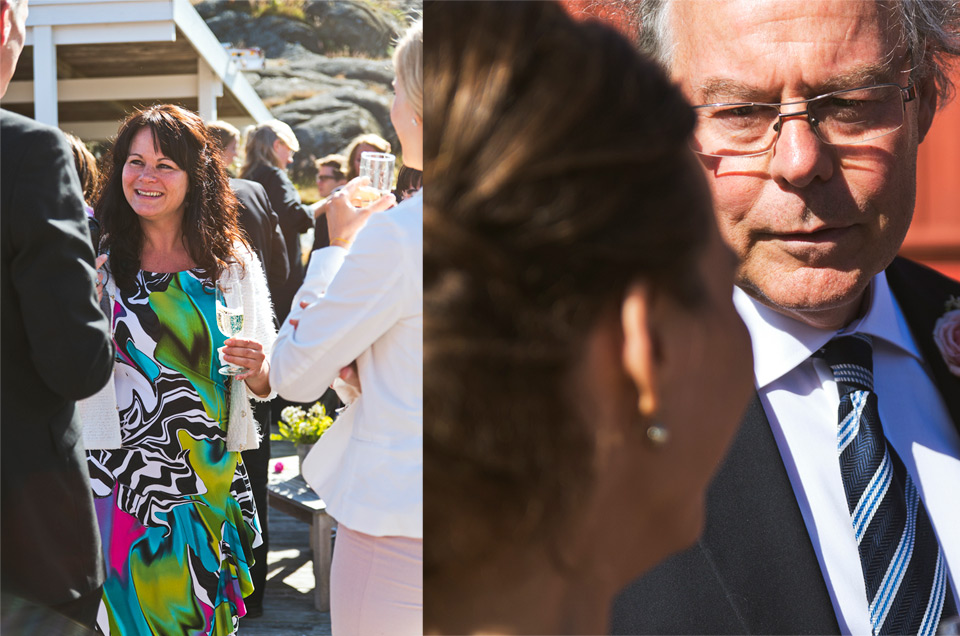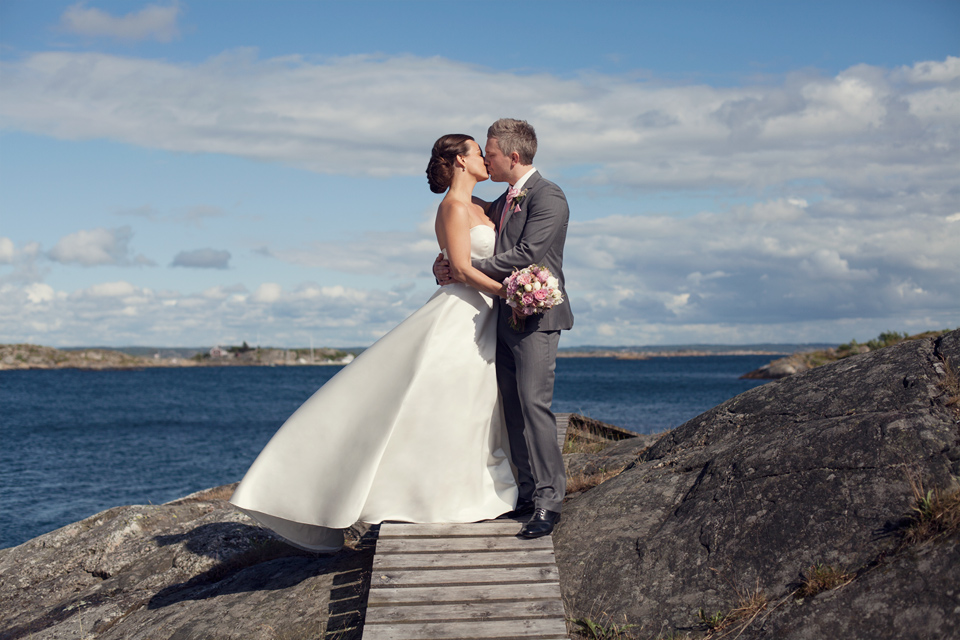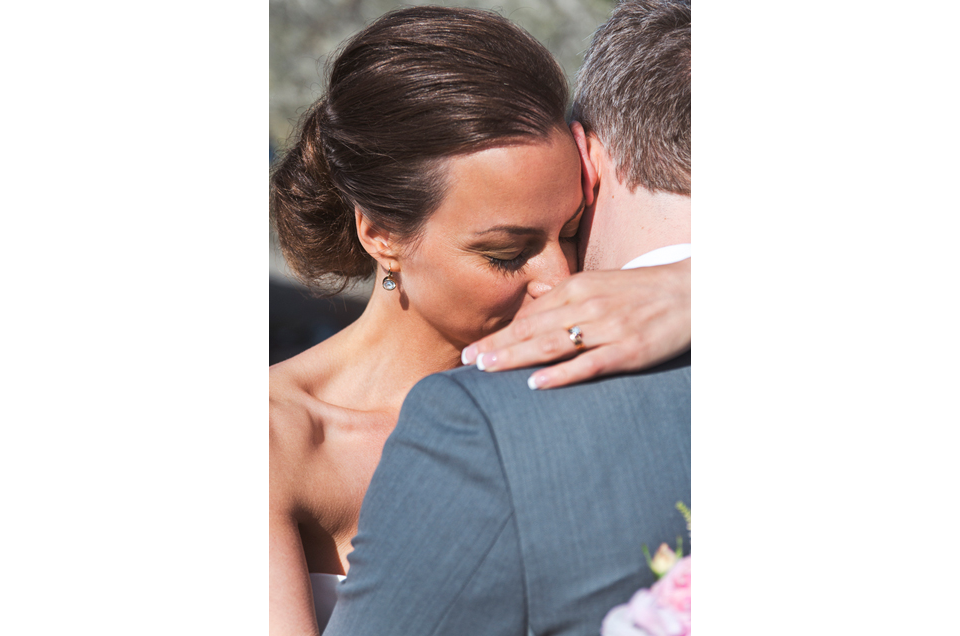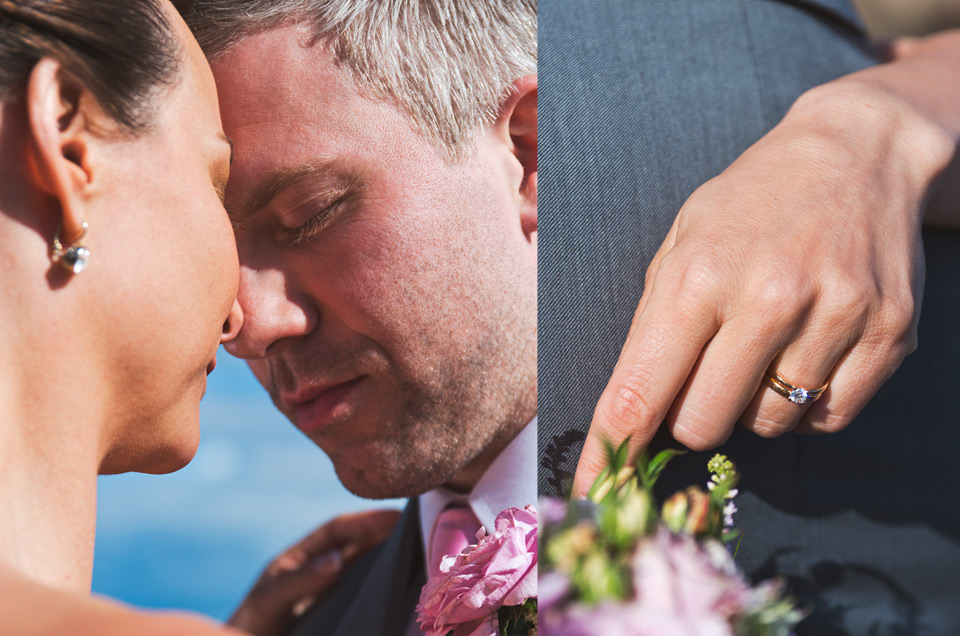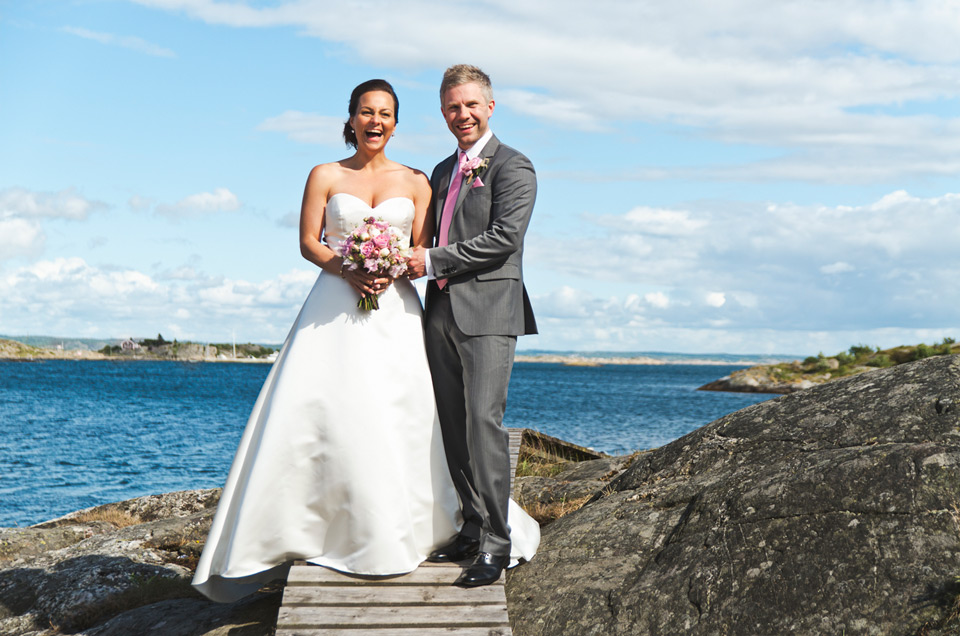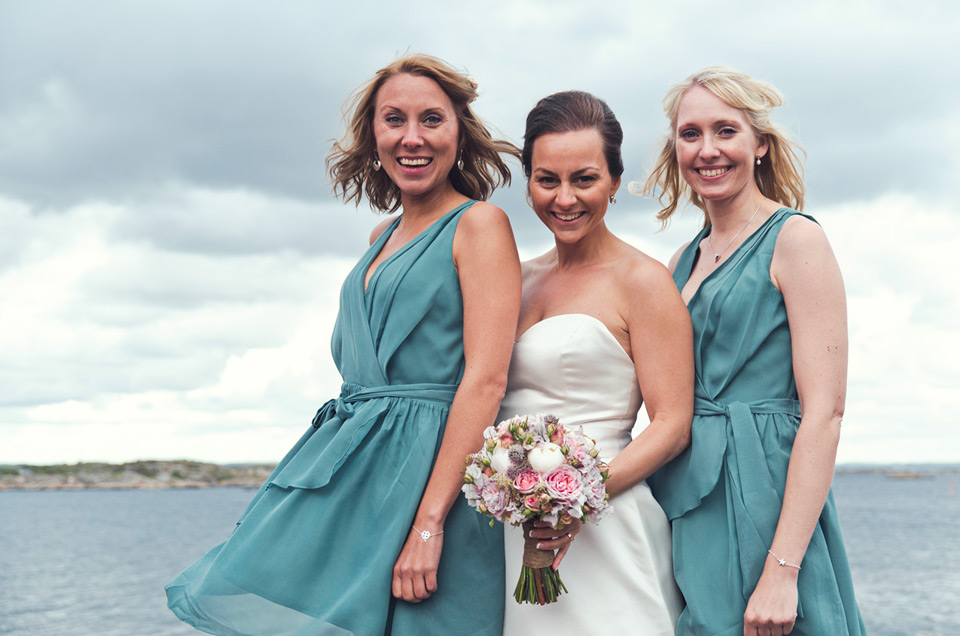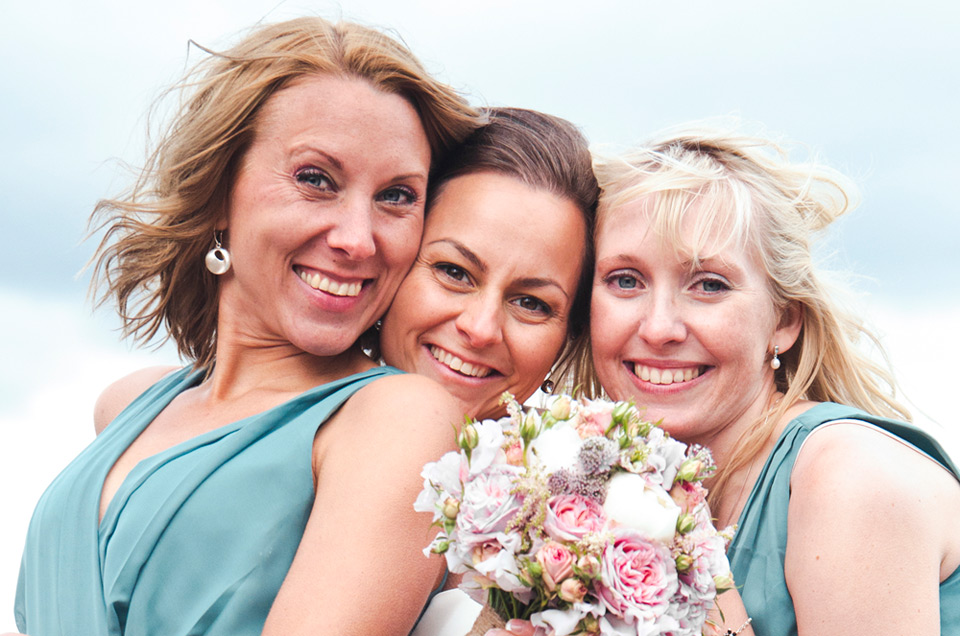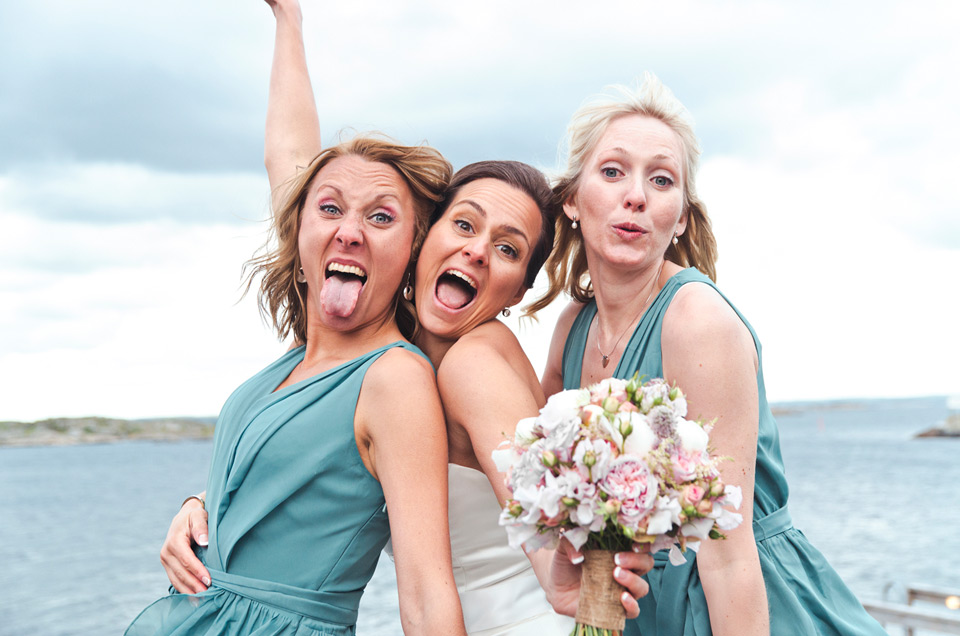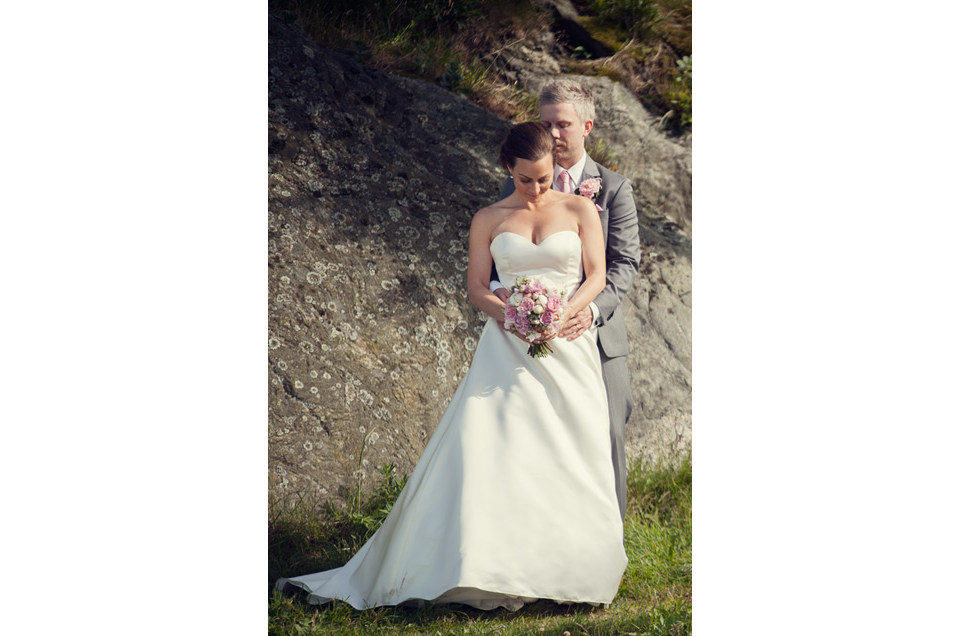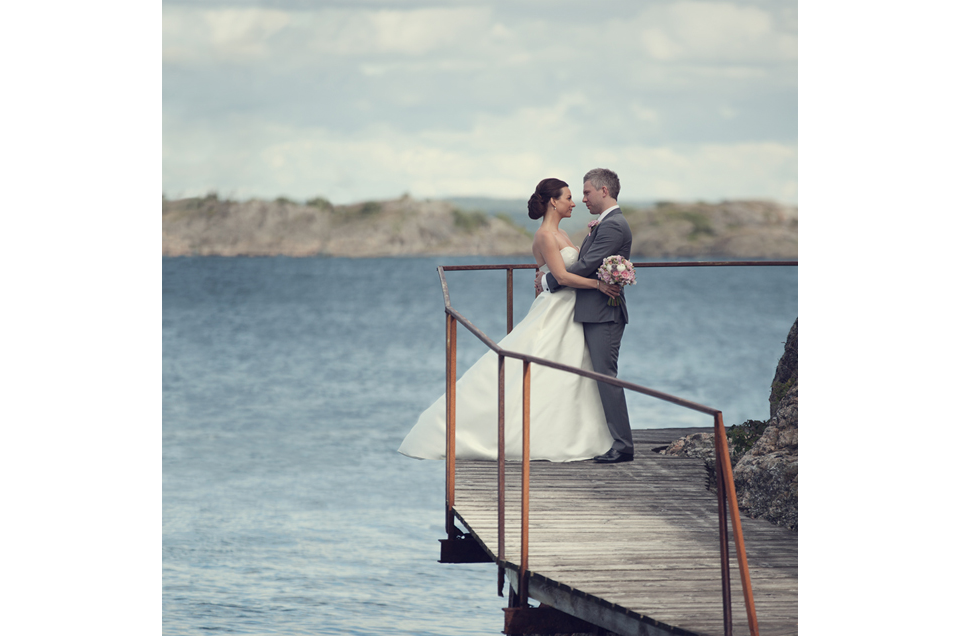 While everyone was relaxing with some bubbly drinks and canapés everything was prepared inside and Rania took some time to photograph some lovely images of the decorations and table setting. The old boatyard house is lovely rustic and full of marine gorgeousness and Utsökt mat had done such a wonderful job. Also, the food was absolutely delicious! We were so happy with it all.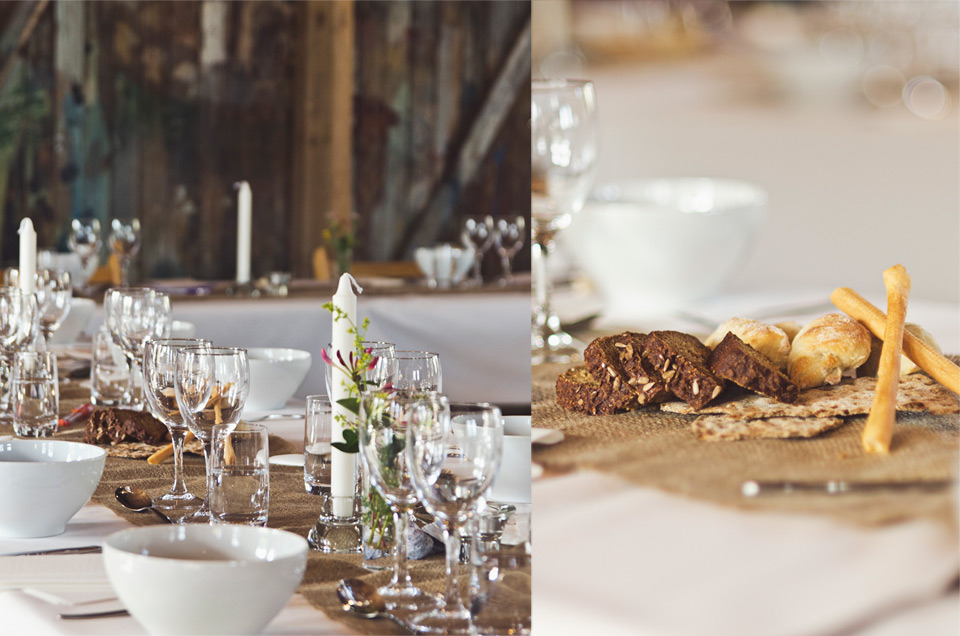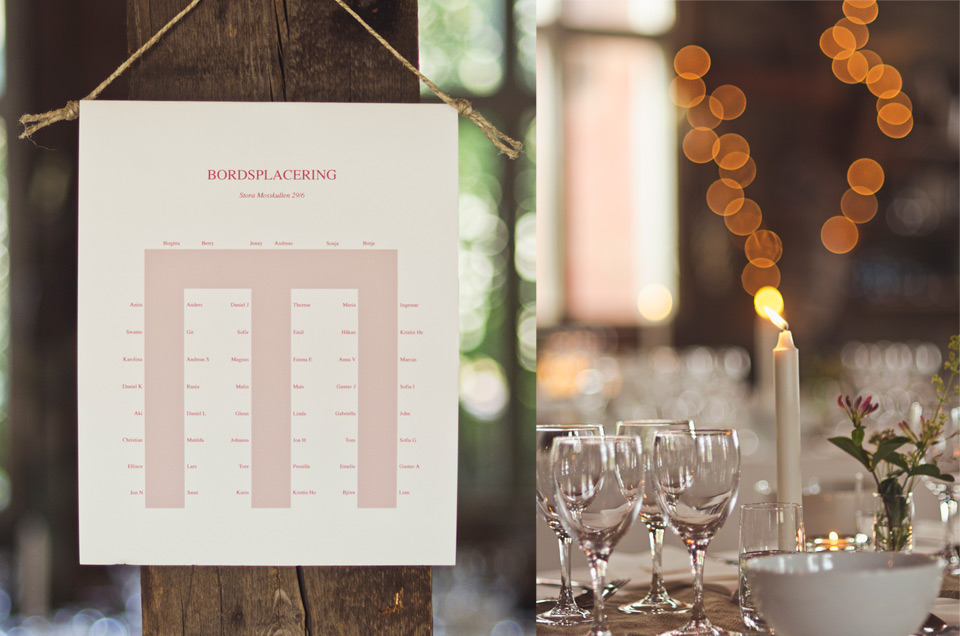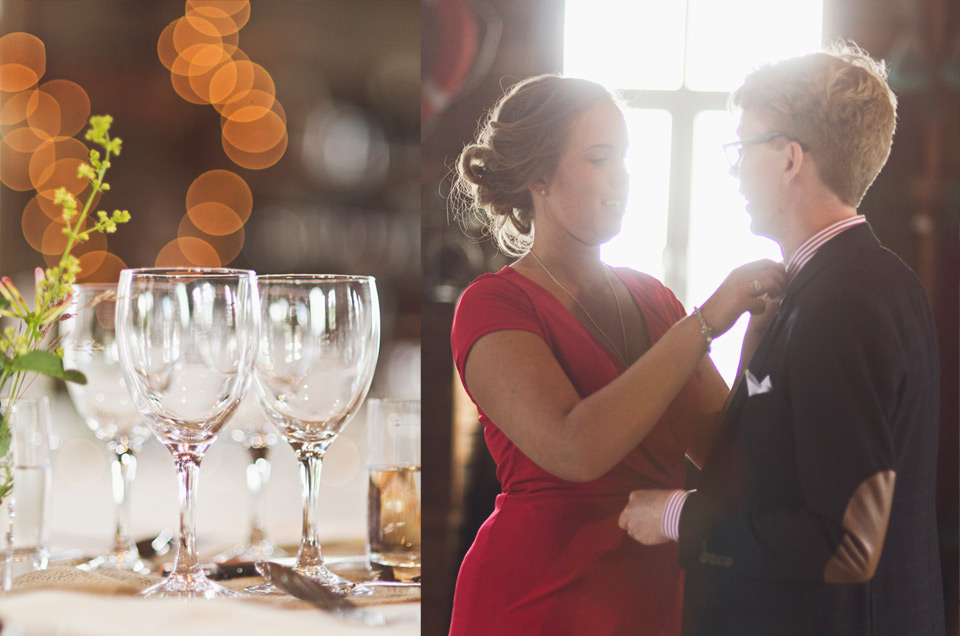 The dinner was so wonderful and it truly was such a special feeling sharing the entire experience with everyone there who we cherish and love. We finally were completely relaxed and had a marvelous time enjoying a special written song, laughing hard at a couple of somewhat embarrassing ;) but still endearing image slide shows…, and playing some very fun games. And last but surely not least, listening to incredibly thoughtful, lovely, tear bringing, and humorous speeches that warms my heart just thinking about them.
The evening was the best of my life and I can't express my appreciation to each and everyone of you who were there, sharing and spreading the love. Thank you so much.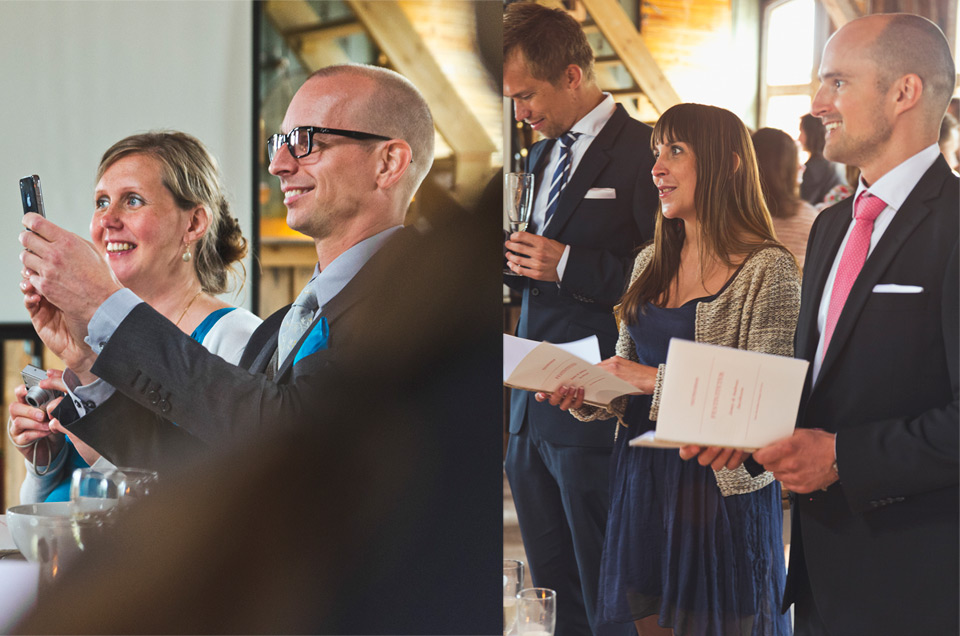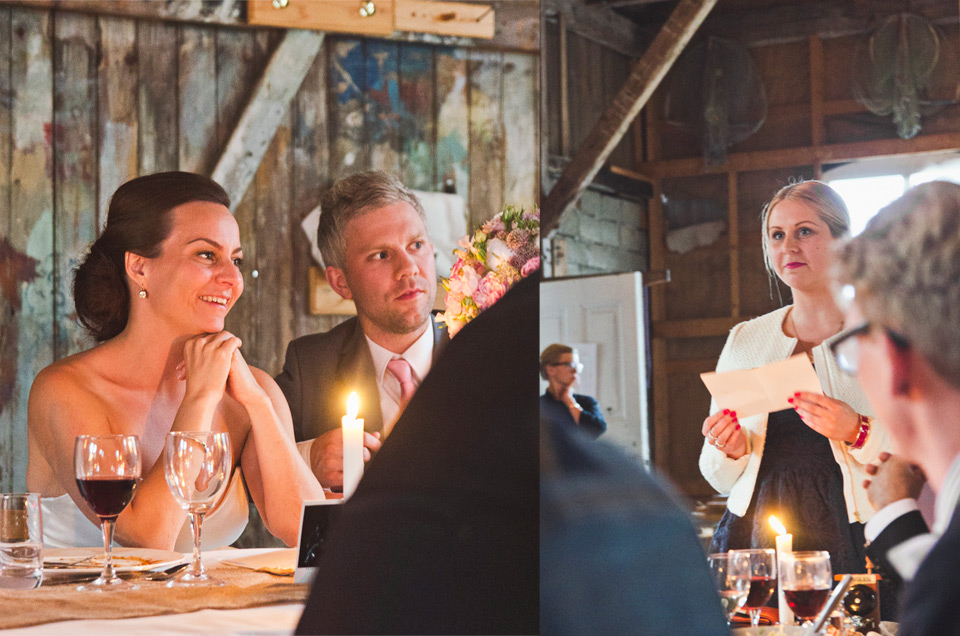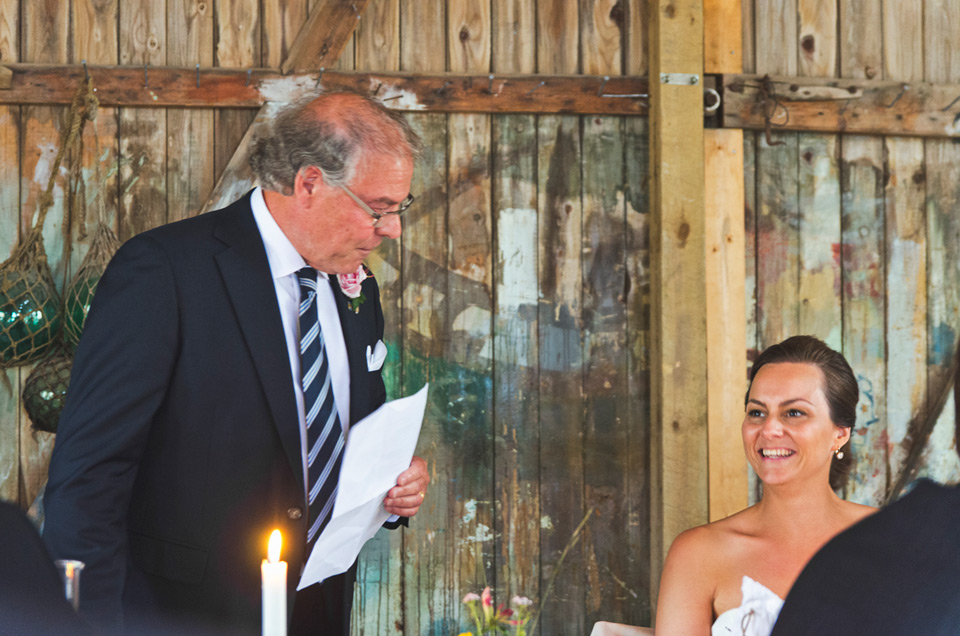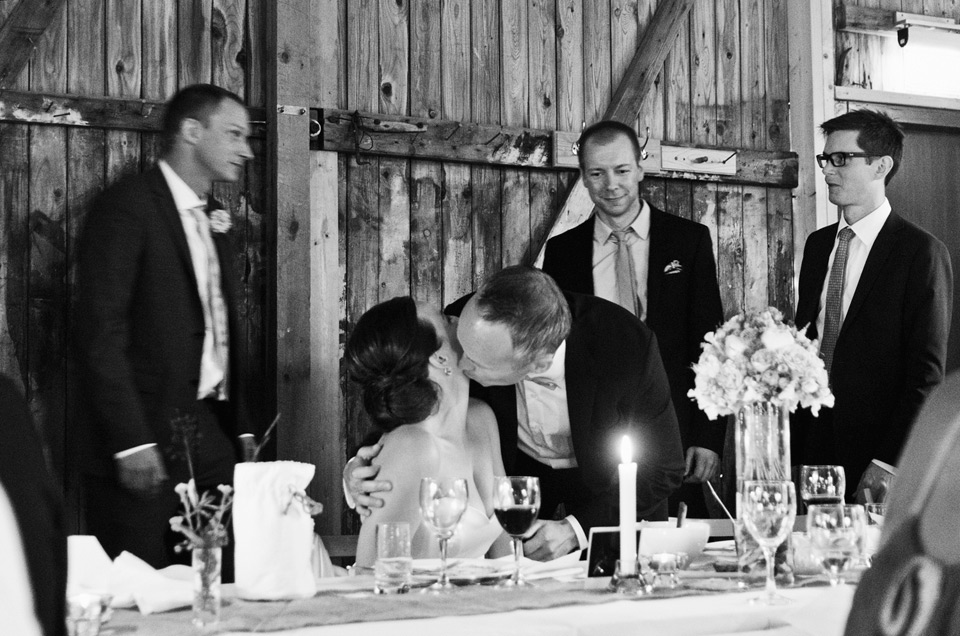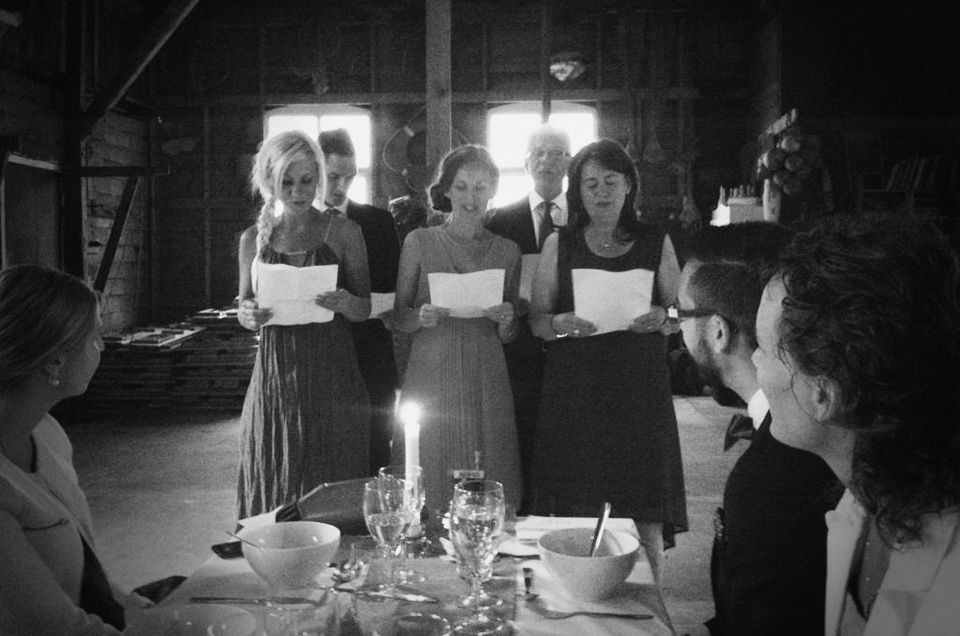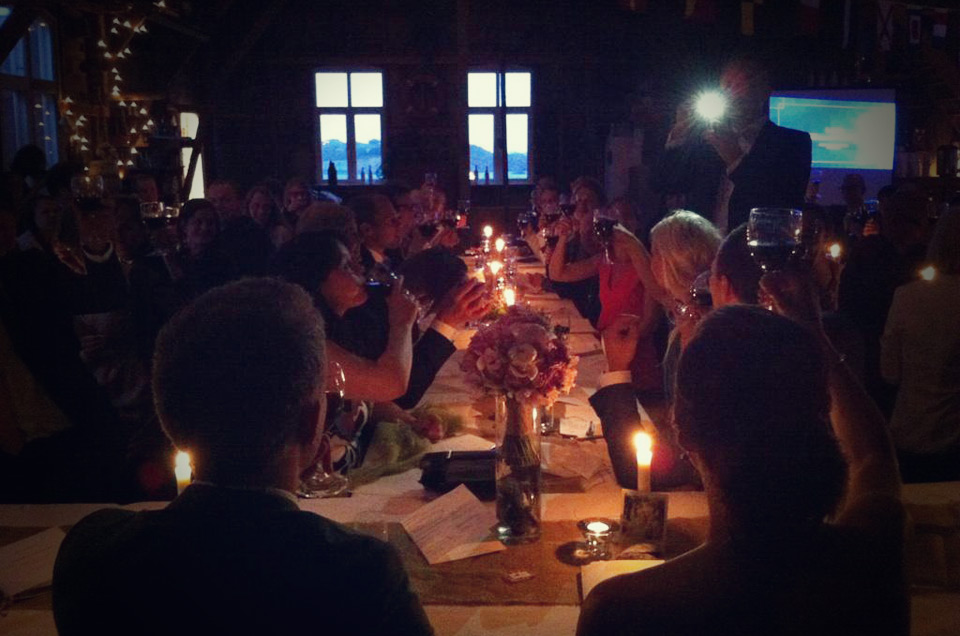 The dinner was such a success that everyone almost forgot to round it up for the wedding walz and the following party dancing. But eventually Andreas and I got to dance together for the first time as husband and wife, and when the walz was over… a true party bursted out! And we partied until it was time to take us all home with the rented boat.
Emma and Nadim (our toast madame and master) had, completely on their own initiative, surprised us with building an absolutely fantastic photo booth! Out of courtesy to the guests we don't share more than one (rather innocent) image from within the photo booth…
(what happens in the photo booth, stays in the photo booth)
…but let me tell you, we've laughed SO hard to the incredibly fun images from in there! A hot tip for every party! And Emma and Nadim… thank you so so much for arranging it.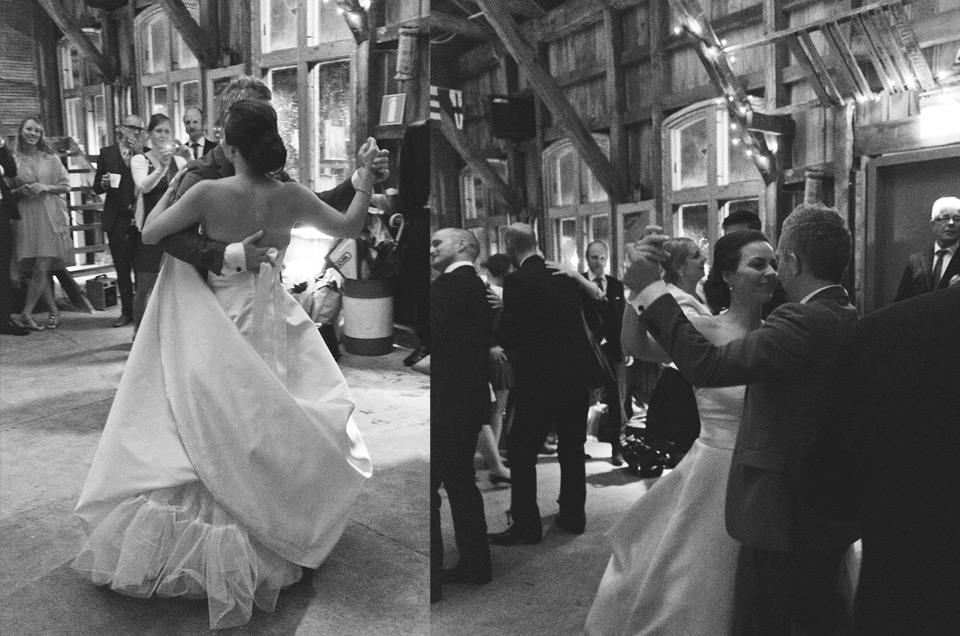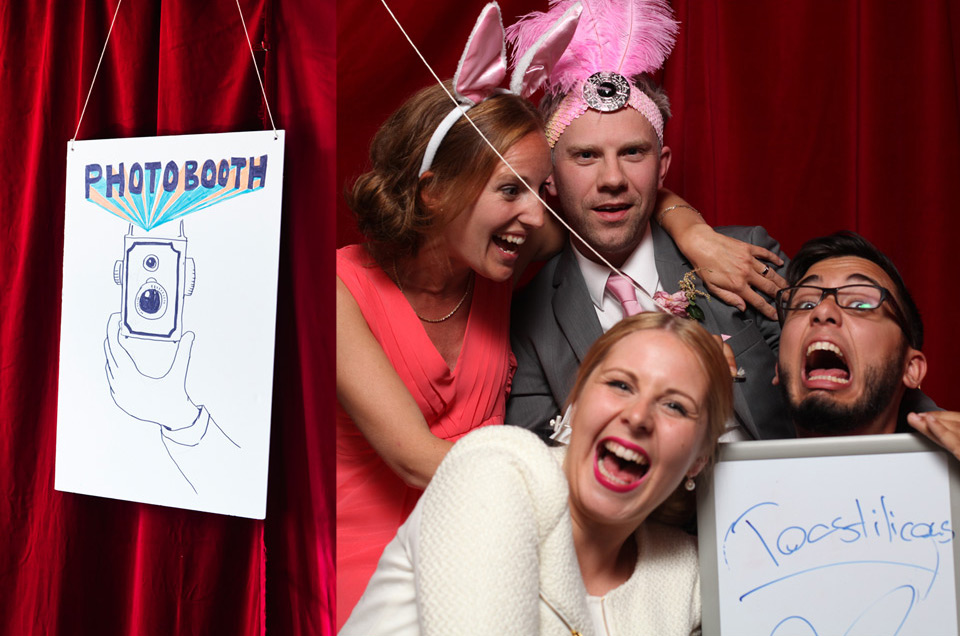 And so we finally were husband and wife. And we truly agree, that our wedding day was the absolutely best day of our lives.
Love,
mrs and mr Jacobsson
You can see more and/or other images from the wedding and preparations at the blog of Rania Maria Photography. 
ARE YOU OR A FRIEND OF YOURS ABOUT TO GET MARRIED? Check out my  "9 tips to consider before choosing your wedding photographer". 
SHARE THIS AND SPREAD THE LOVE