On Monday we at Fotoskolan Göteborg got the neat task of taking a portrait of oneself and a classmate and then in Photoshop fuse them together into one new person. I loved the challenge of using a proper blonde to contrast my own brunette type. And I couldn't resist to create two new persons instead of only one.
So… behold… the Montage sisters!
The upper images are the two versions with the faces fused and the lower images are the originals. For some reason the sisters looked a lot younger than our original normal selves. Hm…
MY TIP FOR FURTHER READING!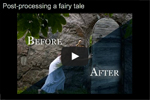 If you are curious about image processing and what can be done in Photoshop, I've got more detailed posts for you!
I'll continuously let you in behind the scenes of how I make people levitate, turn day to night… etc.
—
DO YOU WANT MORE TIPS ON PHOTOGRAPHY AND POST-PROCESSING?
Connect with me on Facebook for upcoming news!
SHARE THIS AND SPREAD THE LOVE