The phoenix hope, can wing her way through the desert skies, and still defying fortune's spite; revive from ashes and rise.*
When Anders came to me to tell his story through my portraits I got so excited. We had worked at the same office before, but I had no idea about the strong and gripping story surrounding his path through life. I feel so fortunate and honored to be one of those he wanted to open up for and to have been invited to hear the full story has truly enriched my own view of life. Hopefully, many more will get the opportunity to sit down with Anders and talk about his interesting life, and even more so, the fantastic transformation he is going through right now to come out a stronger person.
THE STORY OF A PHOENIX
The more he told me about his life the clearer it got that to me Anders is like a phoenix. Transforming in front of our very eyes, shedding his old life, rising from the ashes and coming out in all his splendour. Ready to take on the world again, to spread his wings and fly. Together we took this story and made it into that fabulous imaginative and a bit surreal reality we both are drawn to so much.
SHOOTING, BARBECUING CLOTHES AND SETTING FIRE TO A MAN
So we threw ourselves into creating this image and after loads of conversation and planning to come up with this final vision we went out to the archipelago here outside Göteborg (Gothenburg). The evening was warm and still and we gave ourselves  proper time to do all we wanted to do. We had a marvelous picnic that Anders had made. We were barbecuing, not food, but clothes. We shot Anders for about 30 minutes and then we sat down on the warm cliffs and talked and talked watching the sun set.
Before any of you think I'm a terribly cruel person, setting fire to a man and pushing him off a cliff, I want to say that the whole shoot was safe. The clothes weren't actually burning on Anders's body, but instead the flames were added afterwards with some digital craftsmanship in Photoshop from frames that I took with burning and glowing fabric. "No men were harmed in this photography session" ;)
"ALL THE PREPARATION"
Since Anders seemed to have such a wonderful time through all of the process creating this portrait, later on I asked him what he found the very most fun part of it all. And it was so great to hear that he had enjoyed immensely the whole preparation phase, planning everything and the time we met up to tear up his clothes, and then later going into the photography day. And well… I couldn't agree with him more :)
MY TIP FOR FURTHER READING!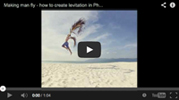 Curious about how to make man fly? Check out the video how to create the levitation effect in this image in Photoshop!

*Quote: Miguel de Cervantes, The Book of the Bizarre: Freaky Facts & Strange Stories (2008) by Varla Ventura
SHARE THIS AND SPREAD THE LOVE