Since it's Throwback Thursday I want to revisit, and show you for the first time here on my blog, the conceptual portrait series 'The creators'.
'The creators' is my examination exhibition project, shot and produced during my final year at Fotoskolan Göteborg (Photography School Gothenburg) and exhibited at Gothenburg Film Studios in December 2012. While reading on, why don't you listen to some music from the musician John Ola portrayed above, that highly inspired my portrait of him:
THE CREATORS
Examination exhibition series
Portraiture
Inspiration feeds creativity.
Creativity feeds inspiration.
I – Pernilla – Writer, columnist, never-ending life reflector
II – Eva – Dressmaker, fashion designer, bold style connoisseur
III – John Ola – Composer, artist, stripped music hypnotist
Fascinated by the circle of inspiration and creativity, I knew I needed to focus my project on different types of creators. Reaching out to different types of artists, we initiated dialogues about what they do, why they create what they do,  what inspires them,  who they inspire, who they are… And the conversations shaped and carved out image ideas, building onto concepts. Through my portraits, I want to tell their stories, hoping to feed the circle of creativity.
You can view the images in full size over at Projects on my portfolio website.
MY TIP FOR FURTHER READING!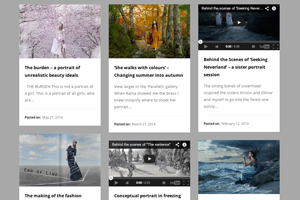 Conceptual imaginative portraiture truly makes my heart beat. If it does the same for you, visit my blog category Works to find even more.
And get Behind the Scenes…
—
INTRIGUED BY CONCEPTUAL PHOTOGRAPHY?
Connect with me on Facebook for even more insight!
SHARE THIS AND SPREAD THE LOVE