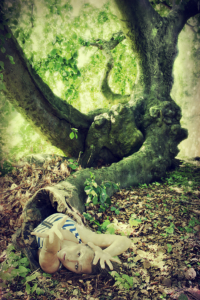 Sometimes you find the most remarkable creations out in the wild. And sometimes they look like something you've only seen in the movies.
One summer's day not that long ago I took my usual walk around my neighbourhood. When passing by a group of trees that I've always admired the branches of, being a bit unusual hanging down like vines, I all of a sudden decided to take a look if I could use them in any of my shots. And as I walked through them like passing green curtains, this remarkable tree appeared. With a huge trunk and gnarled branches it reminded me of a tree from a fantasy movie, and when I saw that it had a strange part of the stem stretching out like a long funnel I knew I was hooked.
I got a flash from a scene in Harry Potter and the Prisoner of Azkaban when the Whomping Willow tries to drag Harry and friends down under it, and decided that I had to surrender to the force of nature. The tree funnel just had to suck me in…
Although it was interestingly big for being a tree funnel, it didn't really seem big enough for me to really fit in it. And also, I must admit that the content of the hole didn't look inviting. At all. So after measuring it in my head and balancing pros and cons, I decided NOT to get my bare legs all muddy, scratched and yucky. And not to mention getting in contact with the rich habitat of insects living in there. With that decision I also had appointed myself to several hours more behind the computer for post-processing. But that would be worth it.
The first time I was there I was wearing a white dress. I knew it was going to get really dirty taking the shot, but I decided I didn't care. Crawling around the stem trying to find the right pose, it sure did. I took some shots (or a lot) with my remote and headed back home.
Going through the shots later on I wasn't happy with the light, it was far too bright in spots, creating blown out areas on my arms and hands. Meaning that I had to walk there again a few days later to redo the whole thing.
Then it took me quite some time cutting myself out correctly in Photoshop. Then I just moved the cutout into the right position, decreased the size of myself a bit to make it look more realistic and so that I didn't look like a giant placed in front of the hole, and melted the images together.
And voilá!
Nature won :)
The Force of Nature

Update November 6th 2010: The processing of this image is also covered within the You ask, I tell category. Go have a look!
SHARE THIS AND SPREAD THE LOVE