And so it was time to answer the next question from my dear readers, and this one is from the delightful Anders Bergkvist, who wrote me a comment in You ask, I tell – The Force of Nature where he wondered "How did you create the levitating impression of your first Flickr Explore image?" (above).
THE PROBLEM
 If you've ever tried to make a proper jump you probably noticed that it's difficult to get some distance from the ground at the same time making it look relaxed and without pulling your face. Unless you are perhaps a trained dancer or gymnast. And trust me… I'm certainly not…
LEVITATION AND MONTAGES
Levitation can of course be created in several ways. Like in all photography a good goal to create a realistic effect is to always capture as much as you can in camera, and try to avoid unnecessary manipulation. Since our mind and eyes are really good at noticing if something fishy is going on and if light and shadows don't add up, it's quite hard to put a montage together and there are a lot of things to be considered (more about that in a future post).
If I had been graceful enough (and believe me, I'm not) I would have performed this little jump and at the same time managed to pose and turn my torso slightly to create the body shape I was after. I tried, but I can assure you you wouldn't be pleased with the result.
IMAGES NEEDED TO BE SHOT
Although for this shot I was a bit lucky, or at least I made it quite easy for myself since I didn't want to levitate beyond belief. I just wanted to take off a little from the ground, like I was floating away. So I needed to shoot images with:
1) stretched legs and pointed toes
2) the shadow on the ground created by the jump
3) the upper body, relaxed and twisted the way I wanted with the face also relaxed and eyes on the ground
PHOTOSHOP PROCESS
After having shot two kinds of shots, one where I took a little jump trying to create good legs, and one kind where I was happy with my upper body, I opened my files in Photoshop. The two images that I'd chosen was put in two different layers on top of each other. Since the upper body layer needed to be placed a bit higher to match my waist, I moved this layer upwards until it fit (you can see how much I moved it in the 2nd image below if you look closely, on the line between the floor and the wall).
When this was done, I hid the "bad legs" from the upper body layer by painting black in my layermask, revealing the jumping legs from the layer below. So that you can this see better, in the 3rd image below I lowered the opacity of the upper body layer so that you can to see the two images together at once (I look a bit like a ghost).
To finish there were a few details that needed to be clone stamped or patched to make everything seemless in the dress, but that was about it for the levitation effect.
So by adding two or more different images into one, you can create the most incredible effects. Give it a try and have some fun with it!
MY TIP FOR FURTHER READING!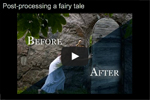 If you are curious about image processing and what can be done in Photoshop, I've got more detailed posts for you!
I'll continuously let you in behind the scenes of how I make people levitate, turn day to night… etc.
—
DO YOU WANT MORE TIPS ON PHOTOGRAPHY AND POST-PROCESSING?
Connect with me on Facebook for upcoming news!
SHARE THIS AND SPREAD THE LOVE