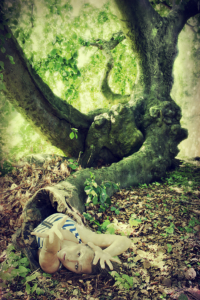 Every now and then I get questions from my beloved blog followers, Flickr contacts, and/or friends about how I did something, why I did another thing, what my inspiration was, if I got caught doing that incredibly embarrasing thing… And I now think it's time to start my You ask, I tell! And it's just as simple as it sounds. You ask. And I will tell. Hopefully not too many embarrasing things :)
First up is a question I got from Hanna Jakobsson, the amazingly charming author of the blog Fröken Jakobssons Vänner, who wonders "what did you do with the leaves in the tree image?" And I'm pretty sure she is referring to The Force of Nature and how I processed the image to create the effect of the tree.
To leave an exact description of how I edited the tree would make this post far too long and I don't want to bore you to death. It involved a lot of blurring, curves, levels, saturation changes, brushing, masking, and a few textures. And since I'm all about the visual, I've decided to show the process in 16 images.
The difference may be hard to see between some of the images (especially since they are quite small), but it's there. It might be e.g. the color or saturation of the leaves, the color of different parts of the trunk, or a vignette. And since this image is not only about the tree I included the entire process, also showing the processing of the girl (me). Also, take a look at To surrender to the Force of Nature for a Behind the Scenes of the same image.
xoxo,
Jenny