As a photographer, or any image maker, you can choose to sit around waiting for inspiration to pop up by itself. Personally, I'm a firm believer that feeling inspired is a state of mind you can teach yourself to find when you need it. So, what can we do to get started? I'm gathering and sharing my methods and favorite creators as a resource to help keeping our inspirational juices flowing. And I invite you along for this series of "INSPIRATION FOR IMAGE CREATORS"!
Every photographer has a beginning. A story of how it all started. Maybe something happened that made you pick up the camera for the first time to capture it, something might have inspired you so much that you want to create something similar, or there can be tons of reasons why you start to be appealed by this amazing art form.
For me it was the first time when I came upon Flickr Explore and from there when I found the fantastic work of photographer Rosie Hardy. There was this girl, looking at me through my screen, and she was within another world. There was so much that caught me, the illusionary settings, the well balanced moods, the creative playfullness, that all got me to continue looking through that photostream. Again and again. And I had found my first photographer that truly inspired me and made me pick up my own camera.
Let Rosie inspire you as well! Have a joyful time going through her Flickr or visit her website.
MY TIP FOR FURTHER READING!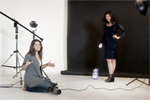 In 2011 I met Rosie on one of her workshops in London! Read about the Rosie Hardy workshop and more about how she inspired me to start photograph in my blog post Following inspiration overseas.
—
LOVE THE WORLD OF PHOTOGRAPHY?
Chat me up on Facebook and get upcoming news!
SHARE THIS AND SPREAD THE LOVE