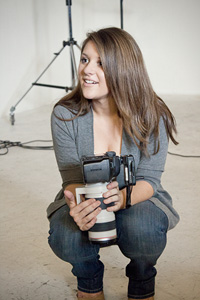 When I first bought my DSLR (and we solemnly named it Cameron…) I was intrigued by what I could create with it. And I was amazed of what a difference the change from compact did to my photos. Out of curiousity I visited the Flickr Explore page that I'd heard would be a great source for looking at what others create with their cameras. It took me about 10 minutes of browsing, and then I stumbled upon it. There was this girl, looking at me through my screen, and she was within another world. There was so much about this image that caught me, the illusionary setting, the well balanced mood, the creative playfullness, that all got me to continue looking through that photostream. What I had found was my first inspirational photographer. Her name is Rosie Hardy.
As I begun to develop my knowledge within the art form and started up projects to move forward, I discovered many talented photographers out there that impressed and inspired. But I tended to always find my way back to Rosie's work, noticing that it always gave me a huge boost of inspiration. Watching her improve with every piece she created was fascinating and pushed me to try to improve myself.
And then, last summer, a wonderful opportunity appeared. Rosie put up workshops in London! How could I miss this chance to meet one of my fav photographers in person, and to get some inside tips on how she manages to create her own unique little worlds? Of course, I couldn't!
The day started with meeting up with Rosie at the cosy studio rented for us. Sitting down on a cool loft, with a variety of sofas and armchairs, all workshopers introduced themselves to get to know each other better.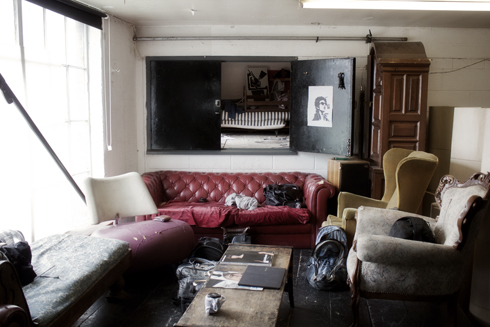 Rosie continued to tell a bit more about herself, giving us some insights into what has pushed her and what she had done to continue growing as a photographer. Showing us her portfolio Rosie gave us tips and tricks on how she had been performing the shots and described her photography techniques while also answering a huge amount of questions being thrown her way.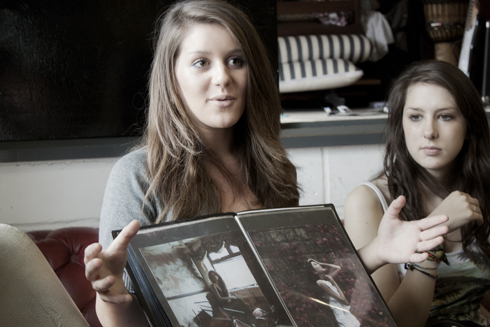 After a great talk we went down in the studio to get into action. We were lucky to have the wonderful model Nhuc Tran for the day. Dressed in a marvelous sequin dress, we had no idea what kind of a messy state we soon would be putting her in… Rosie started off by going through how she would perform the shot she had in mind.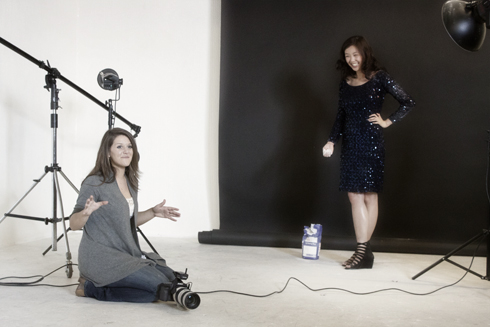 Rosie discussed with Nhuc how she wanted her to pose to get the shot and also, and very importantly in this case, how to throw the flour around ;-)
Thereafter it was the workshopers turn. At a personal 1 on 1 time with Rosie everybody got their turns to create their own shot in mind with Nhuc. She and Rosie really worked hard with the flour, throwing it absolutely everywhere to create in a lot of the cases a very fairytale feeling of smoke and mystic.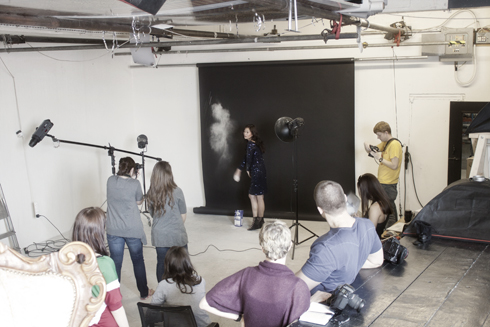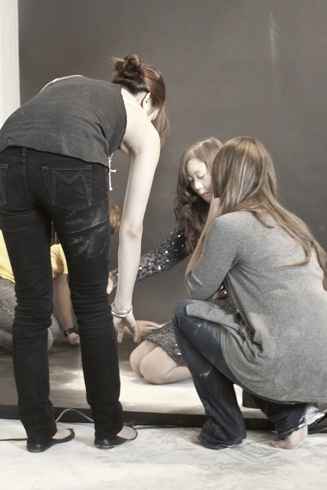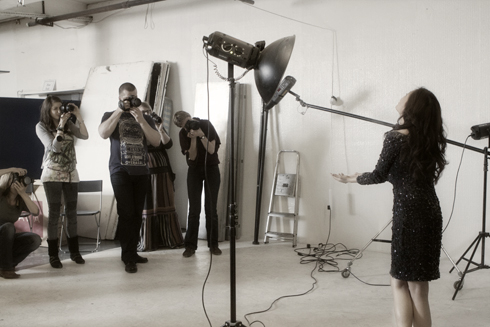 I must say… I'm truly impressed with what an intensity and acceptance Nhuc covered herself and everything around her in flour. And oh my, what a mess we created!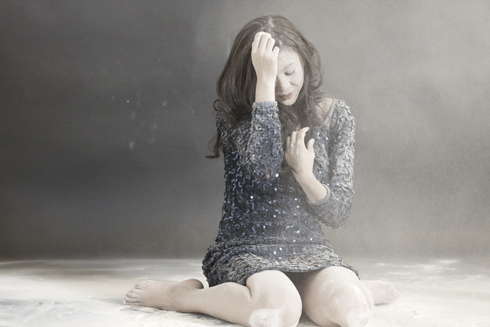 After the big flour fight we got another chance to create a completely different kind of shot with Nhuc posing on a sofa, keeping her feet on a huge cupcake. Although, there were of course no huge cupcake, but instead we used a bin to be in the place of the cupcake, later on shooting a naturally sized cupcake, and then later on in post-processing integrating the cupcake into the place of the bin. Clever!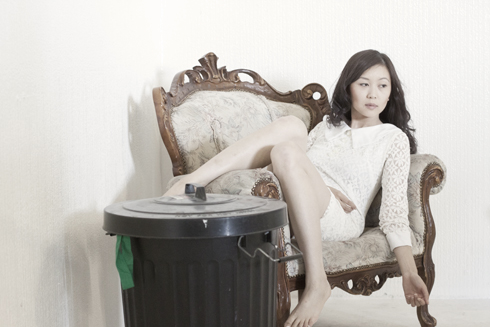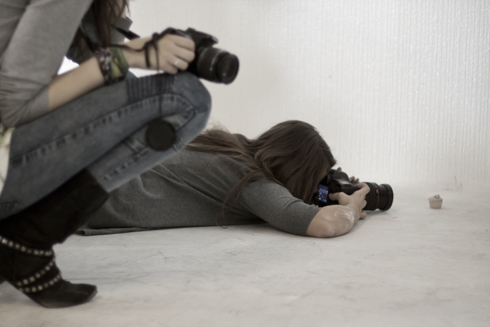 After the shoots we had a post-processing session, viewing Rosie's workflow on her computer via a projector while she described what she did, and why she did it. Thereafter, we all went to the local pub, had well deserved drinks, and finished off a wonderful day with lots of laughs, great business tips from Rosie, and also some heartfelt moments with stories from both Rosie's life and our own.
I flew back home to Sweden the day after the workshop, completely filled with new ideas, wonderful memories, new acquaintances, and most importantly of all, a big bucket of inspiration. And if there was something I'd learned at the workshop, it was that to get the perfect shot, sometimes you just will have to really throw yourself into it….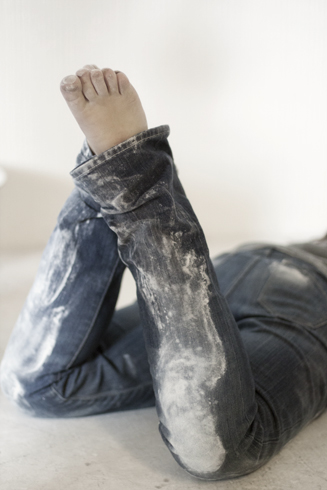 For more shots and Rosie's description of the day visit her blog!
Below is my image from my session with Nhuc. I wanted to create a dramatic image, contrasting with the beauty of the dress and to go in the opposite direction than the fairytale effect of the flour/smoke. The rest of the interpretation, is up to you guys.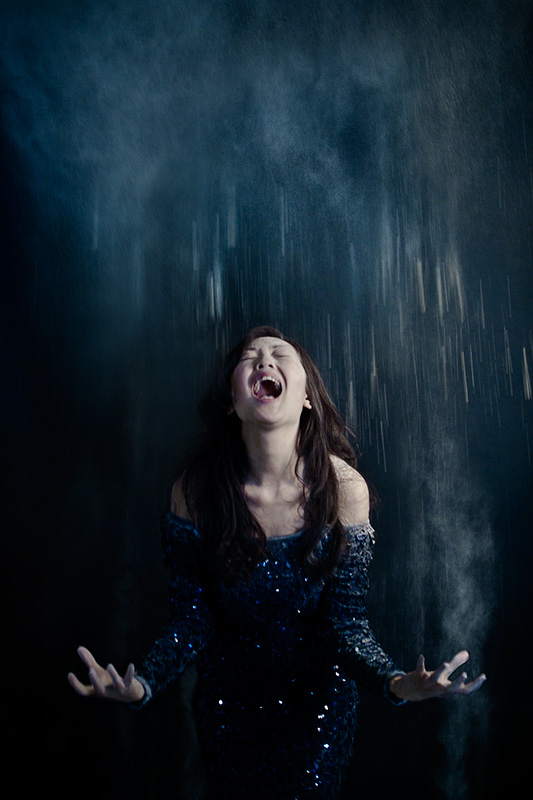 MY TIP FOR FURTHER READING!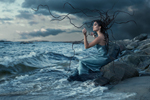 If you are more curious about the process behind a fantastical image, come with me Behind the Scenes on this conceptual imaginative portrait, 'The storm starter'.

—
LOVE THE WORLD OF IMAGINATIVE PHOTOGRAPHY?
Connect with me on Facebook for upcoming news!
SHARE THIS AND SPREAD THE LOVE