This weekend Gothenburg (Göteborg) was shrouded in fog. Very cinematic. And it made me actually love autumn, for once!.
MY TIP FOR FURTHER READING!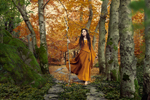 We surely celebrated autumn in Göteborg (Gothenburg) in this conceptual portrait of Rania, bringing out the colours and essence of autumn! Come with us into the world of fantasy…
—
LOVE THE WOLD OF PHOTOGRAPHY?
Connect with me on Facebook for upcoming news!
SHARE THIS AND SPREAD THE LOVE