View larger in the 'Parallels' gallery
When Rania showed me the dress I knew instantly where to shoot her portrait. I had been walking by this forest path so many times, loving it but knowing that this place required a medieval or fantasy theme. And oh how that theme suits Rania.
The dress have been in Rania's possession for quite some time and it means something special. We had been talking about capturing a story for her with her dress for a while and suddenly we felt a sense of urgency. Why wait and not take the opportunity to capture the memory of a beloved garment, representing a special time in life that might never come back?
Also, Rania's hair is a true symbol of this time, right now. Her dreadlocks feel so natural with her and her personality, and hair can truly be a strong expression of identity. Who knows what will happen. Some day the dreads and the dress will be gone. Why not immortalize them now and keep the memory of this time intact forever?
The story took a while to develop, but when finalized, it feels so right, natural and obvious. Rania is a true autumn lover. Her whole appearance goes hand in hand with that wonderful time of year. And when that time appears, she truly shines.
I still can't help but get a huge grin on my face when thinking about the discussion we had when Rania almost… aaaaalmost… convinced me that autumn IS better than summer. And oh, I love my summer time…
So the hair, the dress, the location, the theme, the season, it all came together. Rania, with an essence of nature, of warm tones, of heart and spirit and earthiness. A person who spreads warmth and colour to everyone around her. Here it is. 'She walks with colours'.
MY TIP FOR FURTHER READING!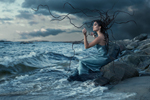 Get Behind the Scenes of the making of the 'The storm starter', another fantastical portrait of Rania where her hair truly is the focus of the story…

—
IF YOU LIKED HER PORTRAIT, GIVE RANIA SOME LOVE ON FACEBOOK!
SHARE THIS AND SPREAD THE LOVE