Here it is, the golden book. Shining and glittering on my desktop this morning and I'm happy to say I'm published in "Best of the best photographers 2014". As they state themselves, it contains the finest images in One Eyeland of 2014, chiseled from a raw material of over 107 000 photographs down to 191… And I'm in there. I take off my hat, and bow.
We chase photographers from seven corners of the world. We tempt them, taunt them, badger them and sweet talk them into sharing their dearest images with us. Applying a ruthless filter called 'exacting standards', we then handpick the 'Best of the Best Photographers'. The One Eyeland Book Volume 4 is an inspiring compilation of this crème de la crème. Melted from a mighty corpus of 107 000 uploaded pictures, and forged from a staggering shortlist of 24 500 images, the golden collection is a showcase of 191 scintillating photographs worthy of the yellow metal.
Sharad Haksar, Founder of One Eyeland
It's "not just a book, it's a collector's item" and if you want to buy the book you can get hold of it here. But a good alternative is of course to check out the e-version here.
Read about my award in Advertising – Fashion in One Eyeland Photography Awards.
MY TIP FOR FURTHER READING!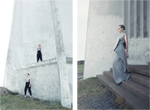 I'm in the book with the conceptual editorial I shot for the fashion collection 'The space that is and isn't' by designer Emelie Arvidsson. Check out the whole editorial, also published with fantastic Papercut Magazine!
—
DO YOU LIKE THE WORLD OF FASHION AND PHOTOGRAPHY?
Connect with me on Facebook for more!
SHARE THIS AND SPREAD THE LOVE