I'm writing this in a haze. A haze from sleepiness because now I'm a day overdue, and my body and mind have been ready day and night for weeks, for the wonder growing inside me to enter into this world.  A haze from marvel, worry, bliss, doubt, and hopefulness, all mixed up into one foggy existence about how it will all turn out. And when I look at this image, created (now what feels like so long ago) just a few of weeks after we got the big positive news that we were expecting, I realize we're still in that pending state. It's just a bit different.
The big news came with an indescribable happiness. And an itch to see what the future would hold and an eagerness to make the very best of it all. Yet it took about 2 seconds before some sort of sense of protectiveness set in. And angst. And I started to wonder how to possibly move forward the best way, and what would lie ahead, especially when time went by sooo slowly. And if this all could possibly be true when it felt so utterly unreal. It was a bit like living and moving slowly forward in a dreamlike state. Being wide awake, but the world still feeling so surreal.
This mix of feelings, both great and less enjoyable, made the head spin a bit and to me, who really likes control and to know what to expect from the future, it was a bit difficult to grasp. We talked a lot, me and Andreas, and we noticed that we shared very similar feelings. And that we knew that together we can always face anything and move forward no matter what lies ahead.
And so one very early summer's morning, some might call it night, I woke him up to go for a drive to our nearby lake to visualize and capture the feeling of this pending state of expecting. To always remember this incredibly love filled, confusing, and wonderful time of life.
Now at the other end of the same pregnancy, but in a very different physical state, I'm still pending. Expecting. Not knowing exactly how to move forward, and what will lie ahead. And I just have to realize it's part of life. And that I need to let go of that control and just trust that my body and mind will take care of it the way it's meant to do. I, being a biologist academically, have to trust my thoughts telling me that my body was built to do this and it will probably work out alright. My mother did this 3 times. My grandmother Lilly did this 8 times, although unfortunately only 7 turned out truly well. And my great-grandmother did this no less than 12 times! That's some heritage to carry. And I surely will do my best to carry it well. And I truly hope that next time I'll write you I will be more knowledgeable. And less pending. And certainly, a really happy mother.
Have you gone through something similar yourself? Feel free to write a comment below to share your thoughts and help each other out :)
[BEHIND THE SCENES]
____________
MY TIP FOR FURTHER READING!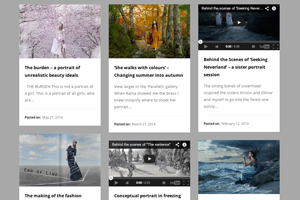 Curious about more of my conceptual images and the stories behind them? Hop on over to the blog category Works to find out more.
And come Behind the Scenes…
SHARE THIS AND SPREAD THE LOVE