Above is a little Behind the Scenes video from the shooting of  'The sentence'.
Location | SÄLEN, SWEDEN
Assistant | ANDREAS JACOBSSON
Model | SELF PORTRAIT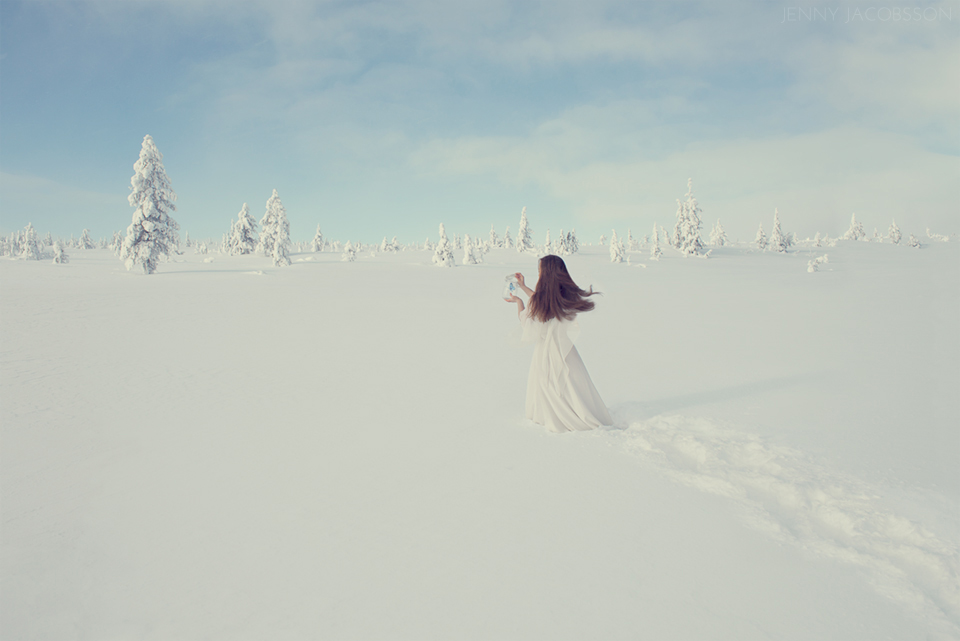 Full screen size in my Portfolio
'The sentence' is part of my series 'Parallels' and was shot in Sälen, Sweden. We were there on a skiing holiday with my family, but being me I just couldn't let this breathtaking landscape be out there without being photographed.
The cold got me thinking about for how little time you would actually survive out there without any cover or extra warmth. And this story came to me about an entity, light as snow but with a deadly darkness, executing a sentence leading to certain death.
It was oh so cold outside (about -15° Celsius) so to be standing still or to take off your protective clothing was not a nice experience. So the day before the shoot I planned the story carefully, making my doodle sketches with the composition, placement of the woman and in what direction she should be releasing her butterfly.
On the day of the shoot we set out to find the right location. I wasn't completely happy with the first test shoot location so we went higher up on the mountain and found this desolate vast expanse of snow. The sun was shining while setting up, Andreas being very helpful in letting me know when I was at the planned position, but before I even got my protective clothes off the clear weather changed to overcast. And actually, I liked the mysterious feeling that was created in the shift. All the planning in the world can't master the weather so instead I let the story form around what was provided.
I hope you enjoy the portrait!
X
Jenny
PS. I must say this hot chocolate and waffle treat was well deserved after getting back into a warm house!
MY TIP FOR FURTHER READING!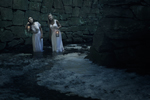 I don't only put myself in cold positions… Check out in this Behind the Scenes of a sister portrait session how Kristin & Ellinor waded through icey waters with bare feet…

—
INTRIGUED WITH IMAGINATIVE PHOTOGRAPHY?
Connect with me on Facebook for upcoming news!
SHARE THIS AND SPREAD THE LOVE