Welcome to my very first Behind the Scenes! "Broken Wings" derives from a summer's day when I was taking a walk and my eyes got caught on these semi-decomposed bird wings among the leaves on the ground. And my instinct was of course that I had to wear them! Even though they would only fit a person 40 cm tall…
But since I'm a very stubborn girl I resisted the terrible stench reeking out from them, poked sticks under the "armpits" of the post-bird, and walked around the forest to find a good location.
Luckily it didn't take long before I ran into this tree stump. The stump was big enough to fit me in it and also it provided a good spot for a levitation trick. Even though the wings were broken I had to at least try to fly with them.
Below, I'll take you through both the SHOOTING PROCESS and the PHOTOSHOP PROCESS
SHOOTING PROCESS
So I needed three shots to be able to create a girl with wings trying to fly from a tree stump.
1) THE UPPER BODY AND ARMS I put my camera on my tripod, climbed the stump and flung around it in different positions, shooting myself using my Canon RC-1 wireless remote control. Climbed back down, ran to the camera to check on the poses and angles, and ran back to the stump to create better ones. This kept on until I felt like I had been through a tough yoga session and I had a shot I was happy with.
2) THE LEGS To create that levitation look I needed to lift my legs off the stump, not touching it at all with my legs. So back up on the stump I let myself into the same position as in the shot I had chosen, held my body up with my arms and released the legs.
3) THE WINGS were a lot trickier since they were so small (and also very fragile and risked of falling apart any second). Still having the wings on sticks, I first tried to get the correct perspective by putting the wings in the proper place behind the stump with the aim to increase their size later on. Although, I wasn't happy with the details so instead I tried to lift them in front of and close to the camera. For this part it is very important to keep the same focal length even if the subject is moved around. I was happy with these images and I was done shooting.
Let me make a note that all this was going on with people walking by… looking like they were going to call the police for them to come get that crazy bird woman running around in the woods with wings, looking like she would need a strait-jacket…
PHOTOSHOP PROCESS
In Photoshop I combined the two images of the girl in the forest by using the first shot as a main layer, masking over "the wrong legs" and letting through the levitated legs from underneath with some modifications.
After that I cut out one wing at a time, pasted them on the forest image, corrected their positions and angles and let the arms and body of the girl in front of the wings.
For me the story is sad and moody, so I wanted the tone and color of the final image to convey that feeling. I worked with blues and darks and decreasing the yellow in the greens. Some more tweaking and adjustments and VOILÀ!
BROKEN WINGS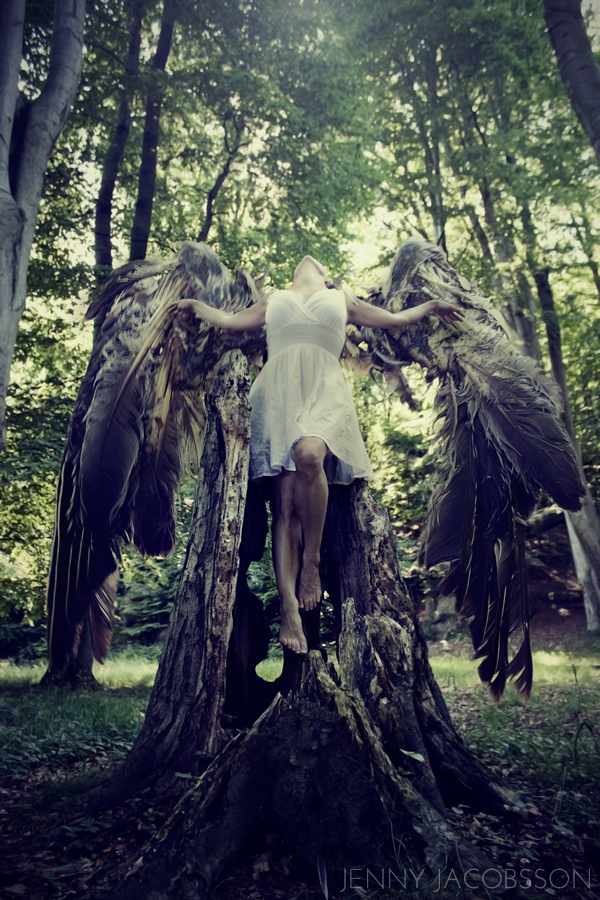 A lot of work, full of aches, and marked as a crazy bird woman, but at least I got to wear a dead bird's wings…
MY TIP FOR FURTHER READING!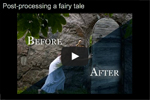 If you are curious about image processing and what can be done in Photoshop, I've got more detailed posts for you!
I'll continuously let you in behind the scenes of how I make people levitate, turn day to night… etc.
—
DO YOU WANT MORE TIPS ON PHOTOGRAPHY AND POST-PROCESSING?
Connect with me on Facebook for upcoming news!
SHARE THIS AND SPREAD THE LOVE