It hits me all the time. It hits me when I'm in the forest and see that shiny container sticking out from the green moss. Or when at the seaside and that garbage bag is waving back and forth between the sand and the water. Back and forth. Back and forth…

Like that plastic, glass, or metal ever would decompose.

It strikes me all the time. The incompatibility between our ways of consumption and our will to live environmentally friendly. The way we are using up our Earth's resources even though we all know that our way of living is utterly unsustainable. I know it. You know it. Yet we all still together don't do enough to change it. Not. Enough. We should not fool ourselves. Only we can change it. We all live with it. Act on it. Dress in it. The environmental paradox. The incongruity.
'The incongruity' is part of my series 'Parallels' and can be VIEWED IN FULL SIZE HERE
photography |  JENNY JACOBSSON
model | SELF PORTRAIT
assistant | AMANDA FALKMAN
design | JENNY JACOBSSON and AMANDA FALKMAN
MY TIP FOR FURTHER READING!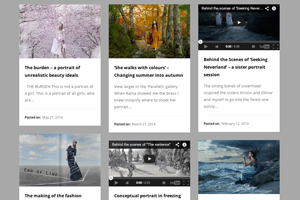 Curious about more of my conceptual images and the stories behind them? Hop on over to the blog category Works to find out more.
And visit more Behind the Scenes…
—
INTRIGUED BY IMAGINATIVE PHOTOGRAPHY?
Connect with Jenny on Facebook for even more insight!
SHARE THIS AND SPREAD THE LOVE