How to make your creative images more interesting
The interest was greater than ever when I walked onto the big stage at Fotomässan Stockholm in November to talk about the road to creative images that evokes emotions, not only showing technique or surface. There were people as far as I could see (< 300) and the energy was amaaazing. Maybe I also got some extra umpf from the little baby inside my growing belly :) Now you can watch the entire talk online (opens in a new window at Moderskeppet)!
Do you feel sometimes that your photos are looking good and are technically great, but they miss that little something extra…?
Do they really tell anything to anyone??
What can you do to make them feel more interesting and evoke more emotions, both for yourself and for your viewers?
And is there a good way to keep that inspiration flowing and not rely on chance?
The best part of it all is not only being able to share my passion and love for creative storytelling with so many people, but also the chats I get to have afterwards individually with you guys. The photo fair is such a great place to meet up with people you've only had the opportunity to write to online before, and it was truly awesome that a bunch took my advice from my newsletter and reached out beforehand that they were going to be there. So we decided to meet up and talk about our shared interests and I got to hear a bit about YOUR images and why YOU create. Also, I'm stoked about all the spontaneous chats from all you guys that were inspired by the talk who came by afterwards with so many fantastic questions and thoughts. I hope to meet you all next year again!
I hope you did/will do the challenge I gave you at the end of the speech?! If you did (I already got some fabulous images sent to me from people who did!), I would love to hear about it in the comments below this post and I'd love to give you my feedback.
 ~ INTERESTED IN HAVING ME AS A SPEAKER? FEEL FREE TO SEND ME A MESSAGE! ~
Watch the talk here (opens in a new window at Moderskeppet):
Please note that it's in Swedish. Contact me for talks in English.
MY TIP FOR FURTHER READING!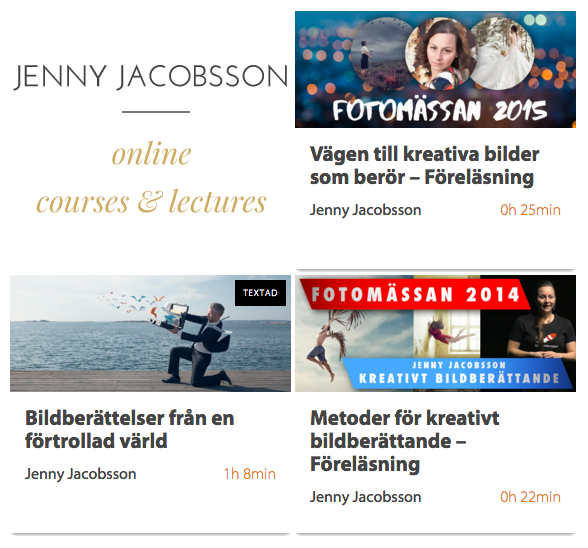 Want to learn more? Join me for my online course IMAGE STORIES FROM AN ENCHANTED WORLD (Bildberättelser från en förtrollad värld). Create your own fantastical story by following me through my process of creating storytelling photography with my special version of realistic surrealism. Or go to Moderskeppet to watch my talks from the big stage of Photo Fair/Fotomässan Stockholm!
—
Connect with me on Facebook for upcoming news!
SHARE THIS AND SPREAD THE LOVE