It was a great honor having my solo exhibition, 'PARALLEL WORLDS' at Gothia Towers The Gallery in Göteborg Sept 22 – Oct 8, 2015.
The photographic exhibition invites you into worlds we see when closing our eyes, conceptualized and told through Jenny Jacobson's camera, creative image construction and strong narrative.

Included are 3 brand new, yet not shown, works. The exhibition is presented and produced by Sandeng Art, and we are all proud and eager to show you the beautifully and carefully made works.
The Gallery is the beautiful art showroom of Gothia Towers, located between the hotel lobby and the Swedish Exhibition Centre (Svenska Mässan). And wall to wall simultaneously to the exhibit the largest fair of the year, Göteborg Book fair, took place, filling the gallery with a staggering amount of creative people. I couldn't be more happy about the arrangement and the resulting event. 'Parallel worlds' is available for new venues and if you missed this one I hope to exhibit soon again, close to your location.
The last image in this blog post is from the opening, and it was filled with so much wonderful inspiring people, both new acquaintances and old friends. An incredibly warm thank you to all of you wonderful people, sharing the moment with me, for the incredibly nice conversations, and for all the shared passion.
If you are interested in acquiring prints, feel free to visit my page PRINTS (link) for more information.
____________
PARALLEL WORLDS
September 22 – October 8, 2015
Gothia Towers The Gallery 
Göteborg, Sweden
Presented by Sandeng Art
____________
MY TIP FOR FURTHER READING!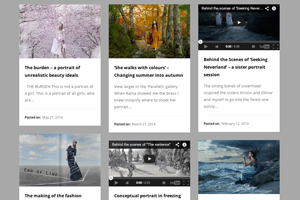 Curious about more of my conceptual images and the stories behind them? Hop on over to the blog category Works to find out more.
And come Behind the Scenes…
SHARE THIS AND SPREAD THE LOVE