One of the highlights for me last year was shooting the fashion collection "The space that is and isn't" for the amazing designer Emelie Arvidsson. Emelie contacted me for my conceptual and storytelling work and asked for an image concept that really was going to bring out the strong story and idea of her designs. The editorial got published by Papercut Magazine. 
Brief: Conceptual, artistic, storytelling, "alienesc", futuristic, space/void,
silence, sculptural, surface, light concrete, strong shape…
The biggest challenge was to find the perfect location suiting the brief. We wanted to shoot in Göteborg (Gothenburg) and the city is not especially famous for its "light concrete" architecture… I scanned through all of town, going back and forth on my bicycle with one hand on the handlebars and the other holding my camera, viewing all modern architecture, visiting recent roadwork, climbing under bridges to look at the abutments, etc. And then, suddenly, it hit me. I knew the perfect spot. I've been there so many times without just thinking about it in this manner. It was right there, under (or perhaps better described as above) my nose. Once I showed it to Emelie, we both knew we had our location.
Photography | JENNY JACOBSSON
Designer & Styling | EMELIE ARVIDSSON
Model | ELLEN BRANTEMO
Hair & Make-up | LINNEA ARVIDSSON
MY TIP FOR FURTHER READING #1


I'm THRILLED to say the main image 'The space that is and isn't – I' won the prestigious international One Eyeland Photography Awards 2013 – category Advertising | Fashion. Read more about the win!

MY TIP FOR FURTHER READING #2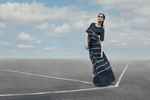 In 2013 I got together with Emelie Arvidsson again to create a new fashion story for her new collection. The editorial was published in the London magazine Unfolded Magazine. Check out the editorial 'End of line' and Behind the Scenes footage.
—
LOVE CONCEPTUAL FASHION PHOTOGRAHPY?
Connect with me on Facebook for upcoming news!
SHARE THIS AND SPREAD THE LOVE